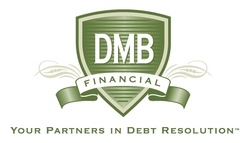 DMB is one of the first companies to meet the new FTC guidelines going into effect October 27, 2010.
Beverly, MA (PRWEB) September 8, 2010
DMB Financial, one of the country's largest providers of performance-based debt settlement, lauded the Federal Trade Commission (FTC) for its issuance of regulations that legitimize the industry while eliminating the industry's "bad actors" who've put a black eye on the industry by failing to assist consumers in managing and settling their credit card debt.
"When we started back in 2003, we did so with a model whereby we received the majority of our fee after we successfully negotiated a client's debt. We felt this was the best way to align our company's goals with those of our clients," states Matthew Guthrie, co-Founder of DMB Financial. "We've seen too many companies come into this industry with the express goal of bilking clients out of money and never settling any debt for their clients. This has negatively impacted companies like ours that have legitimately settled millions of dollars of debt for thousands of clients."
The FTC ruling requires that all debt settlement companies take their fees after they've successfully negotiated a settlement for their client. Industry estimates state that more than two-thirds of the 2,000 companies currently in the debt settlement industry will go out of business due to the FTC ruling. DMB is one of the first companies to meet the new guidelines going into effect October 27, 2010.
In June of this year, DMB Financial announced it had achieved a milestone for performance-based debt settlement companies having helped more than 14,000 people settle over $250,000,000 of debt while saving them an average of more than 55%* ($137,000,000). Available since 2009, DMB's Independence program provides clients with a structured program whereby they pay no fees until a settlement has been reached with their` creditors.
"We got into the debt settlement industry to help consumers get out of debt with a viable alternative to bankruptcy and consumer credit counseling. Both of which cost the consumer exponentially more than a proper debt settlement program," adds Mr. Guthrie. "We are pleased with the FTC's new rule and look forward to seeing the positive changes in our industry."
According to the latest statistics from the Federal Reserve, Americans have over $826 billion of unsecured (primarily credit card) debt. Earlier this year, the Standard & Poor's/Experian Consumer Credit Default Rate Indices pegged the default rate of credit cards at 9.14 percent – the highest since the index began being calculated. With millions of Americans defaulting on credit cards, working with a legitimate debt settlement company, such as DMB Financial, is a welcomed alternative to Bankruptcy and Consumer Credit Counseling.
About DMB Financial, LLC
With over 50 years of combined experience in the debt industry, the founders of DMB Financial are helping to redefine the dream of financial security for the many who are burdened with excessive debt. By providing proven debt settlement programs and services, DMB Financial offers consumers a means to avoid bankruptcy and resolve their unsecured debt. Additionally, DMB Financial offers our clients educational, self-help tools that include a seasonal newsletter along with prevailing on-line articles and beneficial consumer related links as a means to stay abreast of a constantly shifting financial landscape.
Since DMB Financial's inception in 2003, we have been assisting our nation-wide clientele with their burdensome unsecured debt and have enrolled over 14,000 clients in its programs, settling over $250 million of debt for its clients. In fact, DMB's typical client has seen over 55% of their debt written off and is debt free in as little as 12-36 months*. Individual results may vary based upon a client's ability to save funds, the amount of debt, willingness of creditors to negotiate, and the successful completion of all program terms.
DMB Financial is a for-profit, private company and is not affiliated with the credit bureaus or the credit industry. As a result, our services are unbiased and independent, which allows us to better serve you, the consumer. It is at the core of our mission statement that DMB Financial strives to be the preferred financial services company, and is driven to improve the quality of life for our clients. For more information, visit http://www.dmbfinancial.com or call us at 866-810-3210.
*Individual results may vary based on ability to save funds, amount of debt, willingness of creditors to negotiate, and the successful completion of all program terms. Program does not assume or pay any debts, nor provide legal or tax advice. Prudence should always be taken by consumers when reviewing contracts and disclosure materials. Savings statements are exclusive of DMB's fees. DMB's services not available in all states.
# # #