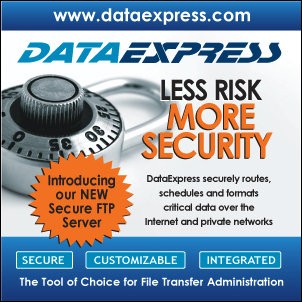 We are very pleased to offer the full and robust management capability of DataExpress at an entry level price point for FTP users
Flower Mound, TX (PRWEB) October 11, 2006
DMBGroup Inc. today announced the immediate availability of the new DataExpress Secure FTP Server.
Built on the foundation of DataExpress Open Platform, the new Secure FTP Server is a smaller application that offers an inexpensive solution for low volume file transfers. Whether large or small, this is the solution for any size business that needs secure file transfer capability. Companies now have the option to have auditable security and control of critical file movement at a far more modest investment.
"We are very pleased to offer the full and robust management capability of DataExpress at an entry level price point for FTP users," said Billy Whittington, CEO of DMBGroup.
The new FTP Server still has all the features of the original flagship product including Security, Control, Monitoring, Alert Notification and Reporting.
About DataExpress
DataExpress securely routes, schedules and formats critical data over the Internet and private networks. For nearly 20 years, DataExpress file transfer administration solutions have assisted numerous companies with mission-critical data management. DataExpress is robust enough to support multiple protocols, require no client-side software and provide the full range of scheduling and automation capabilities that your enterprise and trading community demand. DMBGroup offers DataExpress NonStop and DataExpress Open Platform software products.
DataExpress NonStop runs on the HP NonStop platform (formerly Tandem) and is the ultra-high-volume solution for file transfer management. Many of the largest financial institutions in the country rely upon DataExpress NonStop to handle their massive data collections and distributions in a completely accountable and secure manner.
DataExpress Open is a web-enabled automated file transfer solution consolidates all of your file transfer technology from various locations or applications to a single centralized hub.
About DMBGroup
Founded in 2000, DMBGroup provides industry leading enterprise-level file transfer administration and data movement solutions. DMBGroups product line ensures that organizations can easily and securely control, track and manage the movement of information between companies and within the company. DMBGroup offers process control and end to end management for both legacy and emerging protocols and standards, with our products and related services.
Contact Information
Steve Barclay, Vice President of Sales for DMBGroup. Call 1 972 899 3460
# # #