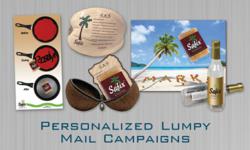 I've worked in direct marketing for nearly 20 years and I can say without question that these days, it has more impact than ever, it's really the perfect storm for you to get your message to the masses.
Tampa, FL (PRWEB) February 05, 2013
Direct Marketing Concierge (DMC) now adds video to direct mail campaigns. Corporations realize that marketing success is related to being unique and making the brand message stand out. This new generation of video direct mail is increasing conversation rates and return on investments (ROI) for businesses across all industries.
"The human race is inundated with marketing messages from the moment we wake up to start our day. Our minds have trained themselves to shut out most of the information that's being transmitted our way, it's a coping mechanism of sorts. One can't begin to imagine how cluttered our minds would be if we took in every last bit of information we heard or saw daily," says Devin Herz, DMC Founder.
"You have to use unique marketing solutions to break through all the clutter and get your message into the hands of the decision makers. Whether it's something as high tech as the new video direct mail, or more simply a lumpy or 3D mail piece that catches the eye, a company's message must grab a prospect's attention. This objective is necessary, for the success of a corporation's marketing and sales growth," says Herz.
Herz states, "If your company uses an outside marketing firm or even if you do your own marketing, make sure you're marketing message is consistent and unique. If you do both of these things, you are all but guaranteed success in your marketing."
Several new direct mail methods including video mailers are now at the forefront of direct response initiatives as part of corporate marketing programs. http://www.yourdmc.com has a full interactive look at what is new in this field.
About DMC
DMC® is a full service Direct Marketing Agency handling campaigns for clients across North America including Canada & Mexico. DMC serves as a collaborative partner in print, design, and marketing from conception & creative planning to full print production & mailing of marketing campaigns for our clients. We incorporate highly customized outrageous and different marketing campaigns that garner attention & demonstrably grow clients' business with improved ROI. DMC is an Addy(tm) Award & Gold Ink Award winning agency as well as having "Best Selling Author Status" from Amazon.com.
Eric Sanders
(813) 579-9540 ext. 106
http://www.YourDMC.com
"We Support The H.O.M.E. Foundation"
About The H.O.M.E. Foundation:
The Helping Others Means Everything, or The H.O.M.E. Foundation, is a not-for-profit organization dedicated to helping our Family of Charities. Frankie Verdugo, President of The HOME Foundation, wants to help as many worthy charities as possible as they struggle during these tough economic times. Frankie Verdugo helps raise funds through luxury dream home raffles, home giveaways, prizes, and high profile celebrity events in Hollywood... "Our mission is to help charities reach their fundraising goals and to bring awareness to their praiseworthy causes."