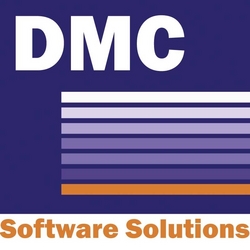 (Vocus) January 8, 2009
DMC Software Solutions, an award winning Sage Business Partner, has broken the small business trend of 2008 by maintaining a steady growth and defying the economic downturn.
Figures show that in 2008 DMC Software experienced a 12% increase and a profitable year- particularly in comparison to other flailing small businesses within the industry. As the recession advances DMC are implementing several new initiatives to battle the economic situation.
Mike Ramsay, Managing Director of DMC Software announced, " Where others have chosen to make cut backs, DMC haven't been defeated by the declining economic climate and instead adopted a proactive strategy including the increase of the sales and marketing budgets. In doing this we have maintained a presence in the business solutions arena, increased brand awareness and boosted our sales revenue. As always our focus is on delivering outstanding customer service and this has been recognised by Sage with entry to the Sage Circle of Excellence - an accolade only awarded to Business Partners through outstanding customer service and customer recommendation levels."
Moving forward into 2009 DMC Software are set to go from strength to strength after being selected by Sage as 1 of 9 Business Partners to become a Sage Customer Development Centre. This initiative is a pilot for 2009 as Sage push to provide their customers with a "breathtaking customer experience" ensuring that they get the most from their software through the assigned Development Centres.
Recognition by Sage at this level is reflective of DMC Software's continuous efforts to provide their customers with the best service available. DMC are a customer focused organisation, consistently striving to enhance their technical knowledge and skills so that they can provide their customers with the quality support they have grown to expect.
As one of Sage's UK Business Partners, DMC Software Solutions are also revelling in the latest Sage sponsorship of The Krypton Factor, currently broadcasted on ITV. The Krypton Factor is back on our screens since it was last aired in 1995, after an 18-year run, and entertains with contestants enduring a series of mental and physical challenges. This sponsorship coincides with Sage's wider Business IQ campaign to identify and understand the qualities that make people in business more likely to succeed. Sage's involvement with The Krypton Factor is another brilliant initiative for them to increase brand awareness, business acumen and further strengthen Sage's brand.
DMC Software offers Customer Relationship Management (CRM) and Accounts solutions as well as professional services to all businesses, whether large or small. Exceptional customer service means that DMC Software will work with a company to decide upon the best tools and services to increase efficiency and profitability.
For more information on CRM or Accounts software from DMC Software visit http://www.dmcsoftware.co.uk, email us info @ dmcsoftware.co.uk or FREEPHONE 0800 6522 423 to speak to a member of the sales staff.
###