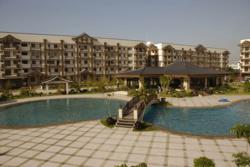 In the thriving industry of real estate, leasing takes part in keeping the business in balance. Rent or Lease is an add on flavor, a spice in the field of real estate business as it provides income to unit owners who choose homes to be their investments.
Manila, Philippines (PRWEB) August 23, 2012
As time goes by, more and more residents are looking for a home that offers convenience in location and most would trade location but end up on a cramped condominium. Property giant DMCI Homes did just know what to do through understanding the market and providing the essentials by offering them quality home rentals for resort style living. Today, Start-up families and Expats are realizing that a DMCI Homes development satisfies their needs.
Alfredo R. Austria, president of DMCI Homes, always quotes "Anchor your service on the value proposition of our company." This statement has guided the Leasing Department to realizing its mission of providing convenient, value added leasing services to clients who expect a good and sound return of investment.
"In the thriving industry of real estate, leasing takes part in keeping the business in balance. Rent or Lease is an add on flavor, a spice in the field of real estate business as it provides income to unit owners who choose homes to be their investments. In my 16 years of experience in the industry, I have seen the crunch and punch cycle of the property market and indeed, competitors have widely increased nationwide, and the challenge is how to achieve our mission. As I would share to the whole department, a unit rented must equivalent to Two Happy customers our tenants and our unit owners.", Rida Ferrer, DMCI Leasing Manager added.
Crafted with 60 years of experience in construction, DMCI Homes takes pride in its developments. With resort-inspired amenities, wide-open spaces, emerging communities and ideal locations, residents can finally enjoy a more comfortable and meaningful way of life where they can "Feel Real Good to be Home."
These developments boast of modern urban lifestyle communities that redefine modern living in the metro. Granted to any member of the society: from singles, with families, vacationers to businessmen, one can surely find more-than-just-the essential amenities where everyone are to enjoy, such as swimming pools, gym, function rooms for events, conference rooms for business meetings, and sky lounges. To address more of the residents daily needs, additional services such as convenience stores, salon and spa, laundry and housekeeping, and Day Care Center are also found in our communities to make home extra pampering.
Development locations are established all over the key cities of Metro Manila: Acacia Estates- Taguig; Tivoli Gradens- Mandaluyong; and Ohana Place- Las Piñas, cited to be where most of the leasing action is. Proximity to the rich districts of Makati City, Fort Global City, and Alabang Muntinlupa favors the communities. The presence of Business Process Outsource (BPO) strengthens the market of residential leasing, where a significant part of it completes the over- all composition of tenants acquired by the Leasing Department: 59% local residents and 41% foreigners. Others are derived through referrals.
The DMCI Homes Leasing Services (DHLS) Department has uncompromisingly shown a GREAT number of increase on its lease performance for the 1st quarter of 2012. An average of 259% increased in rental activity from last year exceeding its target at an average of 104%. More contracts will be expected to close on the nearing months, as DMCI Homes opens new apartments for rent in Quezon City (Accolade Place – P. Tauzon), Maricielo Villas – Las Piñas, Sienna Park – Parañaque City and High- Rise Buildings, Rawai and Kamala at Royal Palm Residences – Taguig City. Also, by the month of September to December, the number of short term tenants will rise due to vacationers and balikbayans who will be staying for the holidays. With this anticipation at hand, DMCI Leasing has expanded offices at Acacia Estates - Taguig, Tivoli Gardens Residences - Mandaluyong, and Ohana Place - Las Piñas, to better provide faster services to unit owners.
Vacationers nowadays prefer apartments for rent as retreat homes under short term lease instead of booking in hotels. With condominiums, they get lower rental cost as compared to hotels, and yet with DMCI developments, they also get both affordability and resort style living as they select from their favorite destination.
DMCI Homes aspires to expand its network, as influenced by the growing number of clients, both tenants and unit owners. With this objective, comes its first Leasing General Assembly last June 22, 2012 in approach to empowering its quality people, and giving recognition to leasing officers, leasing specialists, and agents with outstanding performances. Highlighted are the benefits of being an accredited agent/ broker of DMCI Homes Leasing Services as it opens doors to residential leasing of 23 developments and as- to- date 12 upcoming projects, plus, selected leasing of commercial and office spaces that offers promising commissions.
DMCI's first commercial center, whose construction is in full swing, is situated at Acacia Estates. SaveMore will be operating its supermarket, and surrounding it are restaurants, alfresco, and other shops that will complement the needs and lifestyle of the Acacia community. With the availability of a commercial complex, it will surely be an attraction to more future tenants in Taguig City.
Also, located in the area is Mahogany Place III, the latest addition to DMCI Homes exclusive subdivision developments. Its access to Bonifacio Global City and Makati, makes it a sure provider of the conveniences present in- city living. Another set of new house and lots are for lease at Mahogany Place III. You can choose from a single detached, duplex, and townhouse units.
Moreover, DMCI Homes Leasing Services Department in its constant desire to improve services has recently tied-up with the country's biggest communication company, SMART communication, as they provide SMART INFO Board, a broadcast facility where clients can now receive regular updates on the status of their units and other leasing activities through their mobile phones for FREE.
Also, DHLS has released its first community directory, last May 2012, where residents of DMCI Homes communities acquire free subscription of the said magazine. The first issue was successful and was well appreciated by unit owners as it provided information on deals and services they can avail within the community. With its success, a quarterly release of the magazine will be provided.
With all the success Leasing Services Department has gained, now is an opportunity to experience living in a responsive society. DMCI Homes will help you realize your dream of either vacationing or aspiring to stay in an exclusive, welcoming, and resort-inspired community.
Set your dreams in motion. Make it a reality by making the smart choice. The well- thought out choice. The choice that is, DMCI Homes, through DMCI Homes Leasing Services.
##
DMCI Homes Leasing Services (DHLS) is the Official property leasing management unit of triple A builder/developer DMCI Homes. The service aims to enhance property values and the marketability of DMCI Homes residential developments - primarily for its local as well as overseas buyers who eventually want their homes to be working investments, without the hassle. It is dedicated to providing quality home rentals to a wide range of clienteles opting for short term or long term lease stay in an exclusive home.
For inquiries, please call (632) 403 - RENT (7368), 555-7777 local 5159, SMART 0939-9036362, GLOBE 0917-881(RENT) 7368 or visit the website: http://www.dmcileasing.com