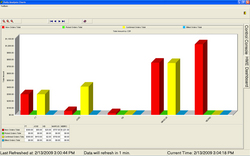 Plainview, NY (Vocus) August 5, 2009
Fastrack Healthcare Systems, Inc. has introduced a new technology offering including their new Scoreboard application. The Scoreboard is designed to provide management and staff with a quick at a glance screen showing key business indicators updated in real-time. Data can be displayed with a choice of a graphical representation, text or both. The Scoreboard will be available to clients that either license the software to run on servers in their office or host the application at Fastrack with access over the Internet.
According to Spencer Kay, President of Fastrack, "Updated "real-time" throughout the day the Scoreboard offers providers the ability to share with their staff measurements that will show their performance in relation to other employees. We envision that certain metrics will be shared with the staff though wide screen monitors mounted in areas like customer service and used to incentivize the employees. Fastrack believes that this product can be used to help improve productivity and highlight areas in the organization that need improvement."
Some of the measurements that can be displayed in graphical format such as a bar chart and/or in a spreadsheet include:
Order Productivity Analysis Charts:

Number of Orders by CSR (Entered, Picked, Confirmed and Billed)
Total Orders by dollar amount by CSR (Entered, Picked, Confirmed and Billed)
Order/billing status by CSR (for last 3 months)
• Average number of days elapsed from entered to delivered
• Average number of days elapsed from time entered to billed
• Average days number of days elapsed from delivery date to billed
• Average days elapsed between billed and paid

Payments Received by Cash Specialist (MTD, QTD, YTD)
Total Revenue By Salesperson (MTD, QTD, YTD)
Number of prescriptions by Pharmacist - • By RX start date • By therapy
Number of Dispensing records by Pharmacist - • By date mixed • By therapy
Number of nursing orders - • By therapy • By discipline • By employee
Additional indicators are being added including a number that are specific to home health care agencies.
Fastrack is the leading provider of software and technology for HME Billing, Respiratory, Infusion Pharmacy and Home Healthcare Agencies offering the only integrated system that addresses all three in one solution.
For further information contact Fastrack Healthcare Systems at 1-800-520-2325, email: info(at)fastrk.com or visit their web site: http://www.onlyfastrack.com.
###