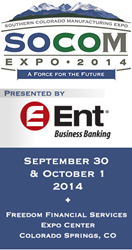 DMS will be exhibiting the Freedom Machine Tool Orthorout 4x4 – a CNC Router developed for the orthotic market and the new Office Machining Center, that fits through a standard doorway. Live demos will be run both days.
Colorado Springs, CO (PRWEB) September 23, 2014
Colorado Springs-based Diversified Machine Systems (DMS), and subsidiary brand Freedom Machine Tool, will exhibit two CNC routers at the SOCOM Expo in a 10' x 20' booth from the Freedom Machine Tool line - the Orthorout 4x4 and Office Machining Center.
This is the inaugural year for The Southern Colorado Manufacturing (SOCOM) Expo and Conference, is an event in Colorado Springs that offers education about the region's expanding manufacturing business, as well as opportunities for manufacturers, suppliers, service providers and educational institutions to connect. This expo was developed for National Manufacturing Week by a group of local manufacturing companies who are seeking new avenues to create community awareness about the rapidly growing manufacturing sector. Not only does the expo focus on facilitating business-to-business relationships within the region, but it also presents manufacturing to students as a viable career path. The expo currently estimates to host over 1,800 students from middle school through college.
As one of the companies involved in this partnership and a promoter of these initiatives, DMS has signed on as an Industry Host Sponsor and will also be offering tours of their World Headquarters on National Manufacturing Day – Friday, October 3rd.
At their SOCOM booth, DMS will be exhibiting the Freedom Machine Tool Orthorout 4x4 – a CNC Router developed for the orthotic market and used by custom medical facilities. The other machine on display will be the new Office Machining Center, which is so compact and portable that it's able to roll through a standard doorway. Live demos will be run both days on the Office Machining Center, including the live machining the plaque awards for the winners of the Awards Ceremony.
The SOCOM Expo kicks off National Manufacturing Week with setup and networking on Monday, September 29th, and Expo and Conference spanning two full days on Tuesday, September 30th and Wednesday, October 1st at the Freedom Financial Services Expo Center in Colorado Springs, CO.
Sponsored by the same local manufacturers and DMS is the showing of the American Made Movie (http://www.TheAmericanMadeMovie.com) at the 21st Century Library on Wednesday evening at 6pm – open to the public.
On Thursday, Pikes Peak Community College is hosting Manufacturing Panel Forums to encourage students to explore the tours on Friday, National Manufacturing Day which can be found at MFGDay.com. DMS is hosting two one-hour tours starting at 9am to 11am.
Learn more about the Expo at SOCOMExpo.com and more about DMS at DMSCNCRouters.com.
ABOUT DIVERSIFIED MACHINE SYSTEMS
Diversified Machine Systems (DMS) was recently named a 2014 Colorado Company to Watch and awarded the 2013 Regional Business Excellence in Manufacturing Award. With more than 30 years of innovation and industry experience as an Original Equipment Manufacturer, DMS' line of CNC routers and machining centers are routinely used on materials such as wood, composites, aluminum, steel, plastics, and foams. Renowned for quality and precision, our advanced machining centers are engineered to increase efficiency and productivity, while maintaining the quality and precision our clients have come to expect from DMS.
Be sure to connect with us socially for the most current news:
Twitter.com/DMSCNCRouters
YouTube.com/DMSCNCRouters
Instagram.com/DMSCNCRouters
Facebook.com/DMSCNCRoutersandMachineCenters
Plus.Google.com/+DMSCNCRoutersandMachineCenters