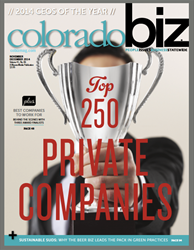 "We're honored to be receiving these highly-regarded awards on a state level.
Colorado Springs, CO (PRWEB) November 12, 2014
Colorado Springs-based Diversified Machine Systems (DMS), a designer and manufacturer of DMS CNC Routers and Large Format Machining Centers, was ranked of the Top 250 Private Companies in the November/December issue of ColoradoBiz Magazine.
With over 30 years of experience in innovation, custom engineering and industry knowledge, DMS CNC Routers are relied upon by international manufacturing companies – especially those in aerospace, automotive, and consumer goods – for machining composites, aluminum, plastics, wood, foams and other materials.
Ranking as number #101 in the Top 250 Private Companies in Colorado is an honor for DMS since this is the first year the company has been recognized for this particular achievement. Other winners who were named within the top 250 consisted of companies from every industry within the state.
"We're honored to be receiving these highly-regarded awards on a state level," says DMS Executive Vice President & CSO. "Not only have we shown to be leaders within our own field, but we're thrilled to be recognized in industry-agnostic rankings."
In June, Diversified Machine Systems was also named a 2014 Colorado Company to Watch by ColoradoBiz Magazine. The last few years have represented large growth and recognition for the business. In November, DMS was awarded the 2013 Regional Business Alliance Excellence in Manufacturing Award.
Learn more about Diversified Machine Systems at http://www.DMSCNCRouters.com.
ABOUT DIVERSIFIED MACHINE SYSTEMS
Diversified Machine Systems (DMS) is a leading designer and manufacturer of 3 Axis CNC Routers, 5 Axis CNC Machine Centers, and Large Format Machine Centers headquartered in Colorado Springs, CO. With more than 30 years of innovation and industry experience as an Original Equipment Manufacturer (OEM), DMS' line of CNC routers and machining centers are routinely used on materials such as wood, composites, aluminum, steel, plastics, and foams. Renowned for quality and precision, DMS advanced machining centers are engineered to increase efficiency and productivity, while maintaining the quality and precision leading manufacturers have come to expect.
Be sure to connect with us socially for the most current news:
Twitter.com/DMSCNCRouters
YouTube.com/DMSCNCRouters
Instagram.com/DMSCNCRouters
Facebook.com/DMSCNCRoutersandMachineCenters
Plus.Google.com/+DMSCNCRoutersandMachineCenters