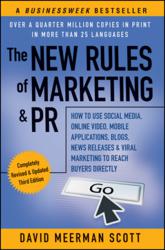 Hoboken, NJ (PRWEB) September 06, 2011
The first edition of The New Rules of Marketing & PR was a marketing game-changer that was the first of its kind to explore how the shifting media environment changed the way businesses of all kinds interact with consumers and the media. It became such an important tool that, to date, it has sold over 250,000 copies, spent six months on the BusinessWeek bestseller list, was published in more than 25 languages from Bulgarian to Vietnamese, and is now a modern business classic.
"When I read The New Rules for the first time, it was a 'eureka' moment for me at HubSpot," says Brian Halligan, CEO, HubSpot, and coauthor of Inbound Marketing. "David nailed the fundamental shifts going on in the buyer-seller relationship and wrote the classic text to help marketers take advantage of them."
Just as the second edition of The New Rules of Marketing & PR brought thousands of organizations, including companies, nonprofits, government agencies, and even rock bands up to speed on the changing requirements of promoting products or services in the new digital age, The New Rules of Marketing & PR: How to Use Social Media, Online Video, Mobile Applications, Blogs, News Releases, and Viral Marketing to Reach Buyers Directly, 3rd Edition (Wiley; Paperback and eBook; September 2011; $19.95; ISBN: 978-1-118-02698-4), examines recent changes to the world of marketing and PR, including mobile marketing, new measurement tools and fresh case studies.
"In the past few years I've met thousands of people around the world who have shared their stories with me, so I have drawn from those experiences and included many new examples of success, and I'm convinced they are even more valuable," Scott says. "And for those who have read the previous editions - you'll still find many fresh ideas in these pages."
Since the second edition of David Meerman Scott's The New Rules of Marketing & PR was published two years ago, online and social outreach has become the norm for many companies, organizations and individuals. Now, more focused questions have come into play, such as how can these techniques be measured and what are some original and interesting ways businesses and organizations can reach their audiences with new and existing platforms?
"The most common questions I've been asked since the release of the second edition are 'How do I measure success?' and 'How do I get started?'" says Scott. "To respond, I included new sections dedicated to marketing and PR strategic planning and implementation and tools for measuring these efforts."
The third edition of The New Rules of Marketing & PR offers a step-by-step action plan for harnessing the power of the Internet to communicate directly with buyers, raise online visibility and increase sales. It also stresses the importance of getting the right message to the right people at the right time - with ideas for incorporating this outreach at conferences and virtual events.
To touch on this real-time outreach, the new edition includes major additions based on the feedback from Scott's presentations over the past two years and the rapid transformation in technology.
"With the growth of GPS-enabled mobile applications for smartphones driving the importance of location-based marketing, I included an entire chapter on mobile marketing," explains Scott. "And because the idea of communicating instantly is essentials, I also added a new chapter drawing on information from my latest book, Real-Time Marketing & PR, including all new examples of success not found in that title."
As the media landscape continues to evolve, and in order to keep up with these advancements, anyone using traditional or social media has to continue to implement and improve their strategies in order to reach their audiences with information - the way they want to receive it. To keep up with these advancements, The New Rules of Marketing & PR is the book every ambitious, forward-thinking, progressive marketer, publicist, business owner, event coordinator or entrepreneur should have at the front of their shelf.
About the Author:
David Meerman Scott (http://www.davidmeermanscott.com, Lexington, MA) is a marketing strategist, keynote speaker, seminar leader, and bestselling Wiley author.
His books open people's eyes to the new realities of marketing and public relations. He is also the author of The Wall Street Journal and USA Today bestseller Real-Time Marketing & PR, World Wide Rave and co-author (with Brian Halligan) of the hit book Marketing Lessons from the Grateful Dead: What Every Business Can Learn from the Most Iconic Band in History.
David's popular blog and hundreds of speaking engagements around the world give him a singular perspective on how businesses are implementing new strategies to reach buyers directly and in real time. His Web Ink Now blog is ranked by "AdAge Power 150" as a top worldwide marketing blog.
He is a recovering VP of marketing for two publicly traded technology companies and was also Asia marketing director for Knight-Ridder, at the time one of the world's largest newspaper and electronic information companies. Scott has lived and worked in New York, Tokyo, Boston, and Hong Kong and has presented at industry conferences and events in over twenty countries.
For additional information about Scott and his books, please visit: http://www.wiley.com/WileyCDA/PressRelease/pressReleaseId-100581,descCd-release_additional_material.html
If you are interested in an interview with Scott, a review copy of THE NEW RULES OF MARKETING & PR, or if you would like any additional information, please contact Melissa Torra, Publicist – WILEY mtorra(at)wiley(dot)com – 201-748-6834
For more information about Wiley's books, please visit our Press Room http://www.wiley.com/go/press
Follow us on Twitter @WileyBiz for more information on our Business books and authors
###