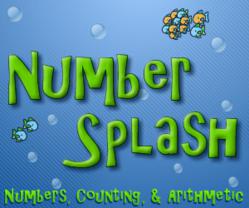 Awesome way for kids to learn basic numbers in English and other languages. -Daniel N.
Orlando, FL (PRWEB) December 07, 2012
New Android application provides a complete underwater classroom experience for kids to educate them about math in a whole new, fun way. Number Splash makes interacting with numbers, counting and arithmetic fun again. With the numbers in the deep blue sea and smooth dazzling graphics, Number Splash will be admired by kids. Check out this first title from DMT Source, an Orlando FL based Indie game developer.
Experience a whole new learning curve while making learning numbers and calculations a pleasure. Kids will be able to grasp the concept of counting in a completely diversified new way. Number Splash is available in eight different languages: English, Mandarin, Korean, Japanese, German, French, Spanish, & Portuguese.
Seven intuitive math education activities included for kids: Lets count, What's Missing, How Many, Addition, Subtraction, Challenge, Bubble Sum. A progress report plots the success of completed activities, allowing you to ensure your child is enforcing their math skills.
Number Splash redefines fun based education. With an underwater gameplay, smooth graphics and high educational value, Number Splash is the perfect way to teach your kids all about math. Get it right now and experience the magic of math!