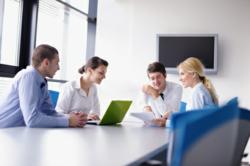 Our goal is to have the best customer service possible.
North Salt Lake, UT (PRWEB) May 14, 2013
DMV.us.org has stepped up their training to make sure each and every customer complaint is resolved in a fair and timely manner, company officials said yesterday.
"Our goal is to have the best customer service possible," a company spokesman said. "Finding the best ways to deal with any type of customer complaint is at the heart of providing good service."
As part of the customer complaint training program, customer service representatives will go through new and effective training, the company said.
"What will happen is that they will role play customer complaint situations," the spokesman said. "One team will try to come up with the most hard-to-solve complaint they can think of. Then, the other team will brainstorm ways to solve it. The first team will be given points depending on how hard the complaint is to solve, and the second team will get points for how quickly they solve it."
The company will also go through the history of complaints customers have made, analyze the way they were solved, and then train their employees based on the best complaint responses they find.
"Over time, you can discover complaint patterns and see how they were handled well and how they were handled poorly," the spokesman said. "Then, you can base your training around the positive complaint responses."
The company said they feel the training is integral to their company growth.
"We believe that we will grow by increasing customer confidence and through word of mouth," he said. "Showing customers that when they have a complaint, it will be taken seriously and solved is the best way to do so."
About DMV.us.org:
DMV.us.org driving records search provides instant information that details a person's driving history of violations, suspension and more. With thousands of satisfied customers, DMV.us.org is a trusted source for driving record reports. Visit DMV.us.org to chat with a live representative, call 1-877-888-0889 or email Manager(at)Dmv(dot)us.org with any questions or concerns.