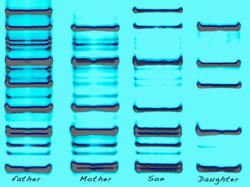 This is an all-in-one modern-day family tree and family portrait
San Diego, CA (PRWEB) June 16, 2011
Yonder Biology can now display and highlight genetic similarities between family members. Because DNA is passed from parent to child the DNA code or sequence that is passed on is highly similar between family members. Yonder Biology is now offering Family DNA Portraits as a way to visualize the similarities and differences in our DNA. Because Yonder Biology visualizes the parts of your DNA that are highly variable these images can display similarities and differences between children (brother/sister) in the same family. By looking at side by side DNA images you can interpret which DNA sequences were inherited from Mom and which were inherited from dear old Dad. Finally there is a family portrait that does not involve getting all dressed up and wasting a Sunday at Sears.
Yonder offers several options for Family DNA Art.
Yonder Biology is offering Family DNA channels (example shown). These vertical columns are specific DNA sequences of family members that are displayed on one DNA portrait.
Yonder Biology offers side by DNA Portraits, Family DNA Duets, where two family members can image several genomic locations and visualize the similarities and differences (husband and Wife example shown). Here is an example of a husband and wife. The wife is on the right – she is always right.
'These images are a fun way to look at family resemblances. This is an all-in-one modern-day family tree and family portrait.' says Sean Raude, Yonder Biology Grand Poobah of Marketing. Although these images can show similarities and differences they are not intended for forensic or paternity determination. These are pieces of Art for Art's sake. Genomic geek Art - but Art nonetheless.
###