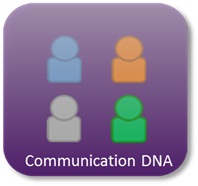 Communication DNA allows customers to tap into a scalable human behavior solution to more easily deliver customized experiences to each of their customers.
Atlanta, GA (PRWEB) November 21, 2012
DNA Behavior International today announced the launch of Communication DNA on salesforce.com's AppExchange, empowering businesses to connect with customers, partners and employees in entirely new ways. Communication DNA is a customer engagement app that uses personality discovery to segment customers and match them to employees and solutions offered, enabling the real-time customization of marketing, sales and client service activities.
By integrating into Salesforce, Communication DNA allows for validated behavioral intelligence to be operationalized at the fingertips of business leaders, sales teams, advisors, customer service and operations teams to deepen engagement in every human interaction and improve business performance.
Built on the Salesforce Platform, the world's leading cloud platform for social and mobile business apps, Communication DNA is now available for test drive and deployment on the Salesforce AppExchange.
Comments on the News:
"Communication DNA taps into the power of the cloud to get at the true heart and soul of a business," stated Hugh Massie, the president and founder of DNA Behavior. "The ability of a business to match the communication style of every member of its sales team to the customer substantially increases the level of emotional engagement which leads to higher customer acquisition and retention, and also sales team productivity. The sales team has a much greater chance of more quickly making the customer feel understood and therefore likely to regularly make purchases over a long time period."
Current users of Communication DNA have consistently observed a marked increase in customer and employee emotional engagement after implementing the solution in their businesses. Regular feedback indicates that when customers see that you are taking the time to know who they are and then to provide them with a more customized service experience, trust goes up dramatically.
In addition, sales team leaders have discovered that there are customers in each sales territory who are making no purchases because there is an inherent lack of emotional connection with the sales team.
Connect in Entirely New Ways with Social and Mobile Cloud Technologies:
The integration between Salesforce Sales Cloud and DNA Behavior increases the competitive advantage of both parties by leveraging the power of innovative cloud technologies and cutting-edge behavioral research. The solution allows salesforce.com's customers to tap into a highly scalable human behavior solution so that they can more easily deliver customized life-long experiences to each of their customers on a scalable basis.
Product Key Features:
Through use of Communication DNA, Salesforce users will have the capability to automate behavioral intelligence based on personality in their Sales Cloud environment. The personality of customers and employees is determined based on responses to the twelve-question Communication DNA process. Responses are then calculated using independently validated algorithms which identify their key communication style and behavioral motivations.
The data generated within the Sales Cloud environment gives users more specific and relevant segmentation for serving customers versus only knowing their historical spending patterns and demographics, enabling the business and its sales and service teams to talk with the customer in a more unique way. This is what has been missing from most sales and customer services systems.
Additional Resources:
Learn More About Communication DNA
Try the App on the AppExchange
About DNA Behavior International:
DNA Behavior International is the worldwide leader in providing customer-centered human behavior solutions to businesses for customer experience management, human performance development and wealth management using cutting edge technologies.
Independent research shows that human behavioral issues hidden deep below the surface are connected to 87% of business performance challenges. Thereby, the DNA Behavior Solutions address this fundamental business problem by closing this "Behavior Performance Gap" which is quantifiable in terms of lost revenues and productivity.
DNA Behavior's differential "understanding people before numbers" approach is to help businesses build a corporate memory bank of independently validated DNA behavioral data for matching different employees to customers and solutions offered on a continuous basis. The outcome is more highly engaged customers and employees leading to the building of a high performance customer-centered business and helping people to live with meaning by unlocking their potential. DNA Behavior's belief is that "behavior drives social business performance".
Since 2001 DNA Behavior has developed a client base of over 2000 leading international corporations, Fortune 500 companies, financial services businesses and family businesses. Our solutions have been delivered in over 47 countries and in 6 languages.