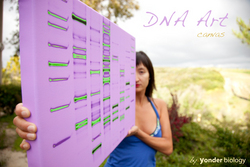 Our customers can further personalize their DNA Art Portraits by adding a photograph or matching the colors of a room's decor.
Encinitas, CA (PRWEB) July 23, 2010
Yonder LLC, a DNA art company, today announced the unveiling of its redesigned Yonder Biology Website, http://www.yonderbiology.com, offering new DNA art design tools, a wider array of customizable product for consumers--including customizing colors and adding a photo to one's DNA Art Portrait--and an enhanced online experience.
From creating personalized DNA art portraits that you can hang on the wall to wearing your unique DNA profile on your t-shirt, consumers can customize every aspect of Yonder's DNA-focused product line. Yonder's DNA art portraits can now be ordered on Photographic paper, Canvas and as a premium option, Acrylic Face Mount - prices start at just $99.
"Consumers want to create their own customized products and Yonder's DNA art portraits are certainly that," said Lola Murci, Yonder Vice President of Sales and Marketing. "Now our customers can further personalize their DNA art portraits by adding a photograph or matching the colors of a room's decor. The new site's wide array of intuitive design functions allows people to create DNA art their way, anytime, anywhere."
Doggie DNA Art
The newly updated site is also debuting Doggie DNA Art Portraits for customers with canine friends.
How to Create Your DNA Art Portrait:
Customers visit the Yonder Biology website to select the DNA Art Type, Style, and Size of their DNA art portraits. Next, customers can select from a variety of options including adding their DNA art creation to a t-shirt. After checkout, Yonder mails a DNA collection kit that consists of a sterile cotton swab and a self addressed, stamped envelope. The swab is gently rubbed on the inside of the cheek and returned in the provided envelope. DNA samples are processed in Yonder's secure, state-of-the-art laboratory in the USA. After lab processing, the digital images are transferred to a computer where the customer's preferences (colors, photo overlay) are implemented. A digital proof is provided with all orders and allow customers to make any last minute changes. Upon customer approval, the DNA art portrait is printed using high quality digital printing materials, mounted accordingly, and shipped via FedEx.
About Yonder Biology
Yonder LLC, a DNA art company based in Encinitas, California, blends pop culture and science to create custom art from DNA.  The company's products include personalized DNA art portraits, Doggie DNA art portraits, DNA art t-shirts, personalize gifts, and more. Each custom DNA portrait displays a unique banding pattern to reveal a new form of individual expression. For more information, visit http://www.yonderbiology.com
CONTACT: Yonder LLC
Media Relations, 760-583-4951
contact(at)yonderbiology(dot)com
# # #