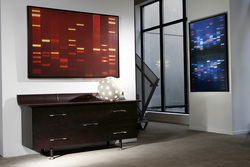 We have propelled an entire industry with our DNA artwork and now we are so excited to be targeting new markets
New York, NY (PRWEB) October 30, 2008
DNA 11, the original creators of DNA art made from your DNA and fingerprints, mark global growth with the launch of a new website that will target over 50 countries. The new web site was launched in response to an increase in global demand and to better serve existing and new clients around the world. The site will support three new languages, Spanish, French, and German, as well as, multiple currencies.
"To date, we have sold thousands of DNA portraits to people around the world with emphasis on North America, UK and Australia, but now we are thrilled to reach new markets within Europe and South America and enhance customers' purchasing experience," says Adrian Salamunovic, Founder of DNA 11. "Our goal is to continue to share the experience of creating the world's most personalized art with people anywhere on earth."
The enhanced website found at http://www.dna11.com, makes purchasing of this affordable luxury item simple. With the use of advanced IP detection technology, a localized webpage will automatically be generated personalizing the experience for the individual user depending on their country of origin. In addition, there is a 24 hour phone and chat support system based on geographic location of the customer. Finally, for a limited time there will be free shipping available.
"We have propelled an entire industry with our DNA artwork and now we are so excited to be targeting new markets," Salamunovic says. "We are continually innovating and adding new offerings like our Genepak™ DNA Visualization services and our DNA Pet Portraits. The globalization of our web site is just a natural part of our continued evolution."
About DNA 11:
DNA 11 is the original creator of DNA Art - the world's most personal form of art. They create contemporary custom portraits from your DNA, fingerprints and lip print. Each modern art piece is as unique as the person purchasing the piece of art; they are masterpieces that combine design, technology, science and pop culture.
The one-of-a-kind art pieces can be found in the Museum of Modern Art (MoMA) stores, has been featured in an episode of CSI New York and can be found in thousands of homes around the globe. Most recently, DNA 11 has introduced Genepak™ DNA Visualization services, DNA Pet Portraits and launched an enhanced website targeting over 50 countries worldwide. To purchase or for more information, visit DNA 11's blog at http://www.dnaart.com or the main site at http://www.dna11.com.
Media Contact:
Adrian Salamunovic, Co-Founder of DNA 11
Phone: New York / International: 646-417-5362 or Europe: 44 (0) 20 7084 6362
Toll Free North America - 866-619-9574 (ext. 111)
Email: Adrian @ dna11.com
###