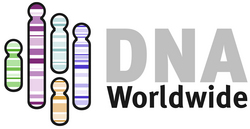 A family simply want a conclusive, accurate
Frome, Somerset (PRWeb UK) July 28, 2009
DNA Worldwide today announced the launch of the Worlds most advanced DNA Test for Paternity. The DNA Test, which is available for both home and legal purposes, provides up to twice the detail of other tests on the market, is competitively priced with results being ready in as little as 3-5 days.
A DNA test works by comparing areas of a child's DNA, called markers, to those of the father and mother. At each marker there must be a match between the child and fathers DNA so it follows that the more markers, the higher the accuracy of proving or disproving the relationship.
David Nicholson, of DNA Worldwide comments "Most accredited companies test between 12-16 markers of a clients DNA. However in a number of cases that is not enough to provide a really strong conclusive result. For this reason DNA Worldwide tests up to 26 markers allowing us to offer strong conclusive results where other companies are unable".
DNA Testing can have a big impact on a family and the decision to conduct a paternity test should not be taken lightly. Once the decision is made to proceed it is important to give careful consideration to the choice of testing company to ensure accurate and conclusive results.
Mr Nicholson Comments "DNA Worldwide aim to always provide clients with up to a 99.9999% positive proof of paternity. We have an increasing number of clients contacting us needing a re-test after receiving results with a 99% or 98% proof of paternity, sometimes even as low as 84%, from another lab. We would not consider these a conclusive result."
There have been a couple of companies, outside the UK, offering 18 and 23 marker tests but they are charged at a high premium. It is not possible to know if the extra detail is needed until the DNA test is run, so in the past customers may have been paying more than they needed.
DNA Worldwide always test 16 markers initially, and if the result does not provide the level of accuracy it requires then it tests 26 makers. There are no additional charges to the customer for the extended service.
Mr Nicholson adds "A family simply want a conclusive, accurate "Yes or No" as to who the biological father of the child is. This is what DNA Worldwide deliver, in 3-5 days, with greater accuracy than any other company".
When researching the choice of DNA testing company, having given careful consideration to the consequences of the test result, it is important to be satisfied that the test is of high quality, to be aware of any hidden charges and to make sure that the firm is accredited.
To find out more about DNA Worldwide and the exceptional level of service offered please visit DNA Worldwide.
About DNA Worldwide: DNA Worldwide is the UK Industry leader in DNA testing for paternity, relationship and ancestry for private and legal clients in the UK. All tests are conducted under fully accredited conditions exceeding UK standards.
Pricing: The Worlds Most Advanced Paternity Test for personal reasons, where the samples are taken at home, costs £149GBP. The Worlds Most Advanced Legal Paternity Test, where samples are taken by a doctor, costs £389GBP.
###