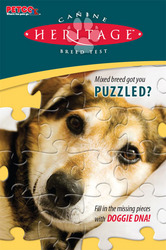 The national market presence of PETCO combined with a company culture that embraces this new technology makes this partnership ideal for us.
San Diego (Vocus) July 10, 2008
Barking up the family tree has never been easier with new cutting-edge DNA testing for mixed-pedigree pups now available to pet parents at PETCO, the nation's leading pet specialty retailer.
Beginning Tuesday, July 15, PETCO customers will be able to purchase the Canine Heritage Breed Test (CHBT) and the newly expanded Canine Heritage XL Breed Test at approximately 300 PETCO stores in California, Arizona, Nevada, Washington, Florida, and the New York metropolitan area. The tests, which use DNA technology to genetically identify the make-up of mixed-breed dogs, are also currently available to all pet parents at http://www.petco.com/dna.
Developed by MetaMorphix, Inc. (MMI), a world leader in DNA based marker systems, the non-invasive CHBT test includes a cheek swab that is rubbed along the inside of a dog's cheek to collect cells. The swab is then mailed to MMI's lab for DNA analysis. In four to six weeks the pet owner will receive the results on a certificate suitable for framing. PETCO customers will be offered two purchasing options: They can have their pets swabbed by a PETCO associate trained through a program developed by the two companies, or they may choose to purchase the dog DNA test and perform the swabbing at home.
PETCO is the first and only national pet specialty retailer to carry a dog DNA breed identification test. The CHBT tests join the company's industry-leading assortment of innovative products that make it easier for pet parents to love and care for their companion animals as part of their family.
"Canine Heritage Breed Tests are on the forefront of life sciences using DNA technology and research to improve animal well-being and strengthen the bond between pet parents and their companion animals," said John Dunn, PETCO vice president for pet services. "These are not only safe and fun, they help our customers take better care of their dogs by learning more about the pet's heritage and adjusting their nutrition, healthcare and training programs accordingly."
Launched in early 2007, the Canine Heritage Breed Test has garnered national media attention along with thousands of satisfied customers. "We are excited to partner with PETCO, a leader in the pet products industry and a company with unparalleled commitment to the dog owner," said MetaMorphix Chairman and CEO, Dr. Ed Quattlebaum. "The national market presence of PETCO combined with a company culture that embraces this new technology makes this partnership ideal for us."
PETCO customers can purchase the standard CHBT test, which can detect more than 50 breeds, for $69.99. The expanded XL version, which can detect more than 100 breeds, sells for $119.99.
To learn more about or to purchase the test, visit http://www.petco.com/dna. For the latest news on anything and everything PETCO - from updates about the company to incredible acts of animal kindness, visit the company's blog at PETCOnews.com.
About PETCO
PETCO is a privately held specialty retailer that provides products, services and advice that make it easier for our customers to be great pet parents. We operate more than 900 stores in 49 states and the District of Columbia, as well as a leading pet products and information destination at http://www.PETCO.com. Our nonprofit organization, The PETCO Foundation, has raised more than $44 million since its inception in 1999 to help promote and improve the welfare of companion animals. In conjunction with the foundation, we work with and support more than 5,000 local animal welfare groups across the country to help find homes for nearly 300,000 adoptable animals every year.
About MetaMorphix, Inc.
MetaMorphix, Inc. is a life sciences company that uses DNA to improve animal wellness. Its wholly owned subsidiary, MMI Genomics, has more than a decade of experience in the area of canine DNA research. As a world-leader in the discovery and commercialization of DNA-based marker systems that enhance the ability to identify individual dogs, verify parentage, determine breed type and confirm gender, MMI Genomics has been at the forefront of developing technology and providing value-added services to the canine community. This unparalleled leadership continues to help protect the efforts of canine registries and support dog owners and breeders around the world. For more information please visit us at http://www.Metamorphixinc.com.
Certain statements in this press release are forward-looking. These may be identified by the use of forward-looking words or phrases such as "believe," "expect," "intend," "anticipate," "should," "planned," "estimated," and "potential," among others. These forward-looking statements are based on MetaMorphix Inc.'s current expectations. The Private Securities Litigation Reform Act of 1995 provides a "safe harbor" for such forward-looking statements. In order to comply with the terms of the safe harbor, MetaMorphix Inc. notes that a variety of factors could cause actual results and experience to differ materially from the anticipated results or other expectations expressed in such forward-looking statements. The risks and uncertainties that may affect the operations, performance, development, and results of MetaMorphix Inc.'s business include but are not limited to; (1) unproven use of scientific information to develop or commercialize products; and (2) other factors that might be described from time to time in MetaMorphix Inc.'s periodic filings with the Securities and Exchange Commission.
Contacts:
Marta Karpinska-Dean, PETCO, 858.444.5575, martak @ petco.com
Theresa Brady, MetaMorphix Inc., 301.575.2505, tbrady @ metamorphixinc.com
###