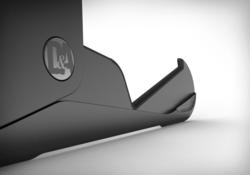 We are very excited to now be the sole source for these products and are looking forward to bringing the guitar world a stream of incredibly well designed and competitive stands and hangers that rock everyone's world
LOS ANGELES, CA (PRWEB) February 28, 2013
Innovation consultancy RKS is pleased to announce that it has successfully launched its own line of guitar hangers and guitar stands under the name D&A Guitar Gear (http://www.heyDNA.com). After ending sole distribution through Fender, it now proudly stands on its own two feet and distributes its proprietary products exclusively.
Previously sold and distributed under the Fender brand, the products formerly known as the Halo guitar hangers are now replaced by the names HEADLOCK™, for its mystifying self-closing capabilities, and GRIP™, the minimalist, open-architecture guitar hanger. The D&A folding professional grade acoustic or electric guitar stands are available under the name D&A GIGSTAND™. These portable guitar stands weigh less than the average guitar cable, and are small enough to fit in your back pocket.
"We are very excited to now be the sole source for these products and are looking forward to bringing the guitar world a stream of incredibly well designed and competitive stands and hangers that rock everyone's world" proclaimed founder Ravi Sawhney.
Sawhney further elaborated: "The relationship with Fender was brilliant, working with one of the most famous brands in the world and their experienced teams. We're extremely thankful to Fender for helping us enter the market under their brand, then for encouraging us to go it alone and build our own brand, D&A. This gives us more flexibility to bring out more products at better prices than we have ever envisioned."
True to his word, the D&A website (http://www.heyDNA.com) offers quality guitar gear at affordable prices. The HEADLOCK™ self-closing guitar hanger is available at $25.95, and the GRIP™ guitar hanger goes for $13.95. The GIGSTANDS™ are priced at $19.95 for the electric, and $22.95 for the acoustic. Additionally, the never-before-seen D&A product bundles allow D&A to offer their products for the best prices ever. 3-packs and 10-packs for the hangers are available at 36-44% off of MSRP, and the GIGSTANDS™ are available in 2-packs and 5-packs at 38-44% of MSRP.
ABOUT D&A Guitar Gear
The D&A Guitar Gear line provides smart, user-friendly, high quality design solutions at unbelievable prices. D&A is completing exclusive distribution internationally so that each country is well served. Postings of regional distributors for the gear will be made available on the D&A website. Guitar gear availability through the D&A website is exclusive to North America and for regions that are not covered by international distributors until we blanket the globe with distribution partners who share our vision that guitar players deserve gear as well designed and engineered as the instruments they protect.
D&A Guitar Gear is a brainchild of RKS, a research, strategy and design firm.
ABOUT RKS
RKS is an innovation consulting firm delivering human-focused solutions with global impact.
Founded in 1980, RKS utilizes design as a strategic tool advancing client's ability to focus on people's needs and aspirations while creating sustainable business results and benefits to society. Working domestically and globally and having won over 140 major design awards, RKS credits Maslow and Campbell's work as the foundation for its systematic and pragmatic set of frameworks, setting the stage for the creation of experiences that motivate and reward audiences. Find out more at http://www.rksdesign.com