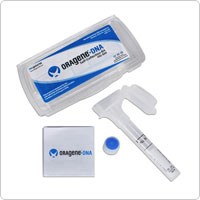 The selection of the Oragene•DNA product for the genetic component of our study was based on the critical need for easy collection of high quality DNA samples.
Ottawa, ON (PRWEB) May 24, 2011
DNA Genotek, the leading provider of products for biological sample collection, stabilization and preparation, today announced that its Oragene•DNA product has been selected to collect DNA from saliva for the International Collaboration on ADHD and Substance Abuse (ICASA) study researching the prevalence of ADHD in Substance Use Disorders.
The study investigates the following in 8 European countries, the United States, and Australia:

the prevalence rates of ADHD in treatment-seeking patients with Substance Use Disorders (SUD);
the differences and similarities between countries and between different substances and treatment settings;
the course and development of SUD in patients with and without ADHD; and,
the validity of screening and diagnostic procedures for ADHD in this population.
Sample collection will cease in June 2011 and the first results are expected in 2012.
In order to investigate a genetic basis of vulnerability in ADHD patients for development of Substance Use Disorders, the ICASA foundation is currently working on developing a research protocol and on finalizing the necessary resources for this very important study. Over 5,000 treatment-seeking SUD patients will be asked to provide a saliva sample with Oragene•DNA.
"DNA Genotek is pleased that our Oragene•DNA product has been chosen by ICASA for this important study," said Ian Curry, president and CEO, DNA Genotek Inc. "One of our company's primary objectives is to deliver high-quality sample collection products to enable our customers to focus on the detection, diagnosis and treatment of disease. This study will help researchers understand the impact that genetics has on ADHD and SUD, hopefully leading to effective target detection and treatment."
"The selection of the Oragene•DNA product for the genetic component of our study was based on the critical need for easy collection of high quality DNA samples," said Geurt van de Glind, director of the ICASA Foundation. "We are collecting DNA samples from patients at 13 centres throughout Europe, the USA and Australia. In this population of treatment-seeking SUD patients, collecting saliva is far more feasible than obtaining blood samples and we expect the Oragene sample kits will prove beneficial as we strive to determine if there are specific genes responsible for developing SUD when ADHD is present."
About ADHD and SUD:
Among Adult SUD patients, ADHD is a common diagnosis with a prevalence of 15-30%, according to mainly American studies. There is mounting evidence that ADHD is an important risk factor in the development and persistence of addiction. ADHD is associated with an early onset of substance abuse, a more rapid transition into severe types of substance abuse and a problematic course of SUD, including more difficulty in reaching remission. Data on ADHD prevalence in Europe and other countries apart from the USA are scarce. The ICASA Foundation is an international research working group targeting 1) Decrease of numbers of ADHD children and adolescents developing SUD and 2) Increase of the quality of diagnostic and treatment procedures for adolescents and adults suffering from both of the disorders. More information on the ICASA Foundation can be found on the ICASA website: http://www.adhdandsubstanceabuse.org
About DNA Genotek:
DNA Genotek focuses on providing high-quality biological sample collection products. The company's Oragene family of products provides the best way to collect and preserve large amounts of DNA or RNA from saliva. The company also offers a family of products for collecting DNA from animals and livestock. The reliability and ease-of-use of the company's products have resulted in rapid adoption at top-tier health research institutions globally, including Harvard, Stanford, Cambridge, and Johns Hopkins. DNA Genotek markets its products worldwide and has established a global customer base in over 100 countries. For more information about DNA Genotek, visit http://www.dnagenotek.com
® Oragene is a registered trademark of DNA Genotek, Inc.
###