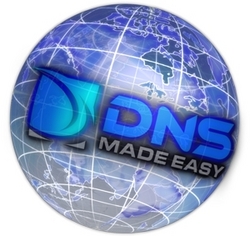 DNS Defense provides a layer of security that is unsurpassed in the market by any provider today
Reston, VA (Vocus) October 27, 2010
DNS Made Easy, the world's leading IP Anycast DNS provider, is introducing the DNS Defense platform. DNS Defense was created in response to the growing level of attacks and outages being experienced by other providers in the market. While other providers are releasing add-on features to provide additional security to DNS attacks for additional cost, DNS Made Easy is providing DNS Defense as an included benefit to all current and future customers from small business to corporate members. As DNS represents a fundamentally important service for any company with an Internet presence, DNS Made Easy has and will continue to provide the highest level of protection for all of its clients. The DNS Defense platform is no exception to this core strategy that has been followed for years by Tiggee, the parent company of DNS Made Easy.
DNS Defense is a multi-layered model of configurations and technologies that provide DNS Made Easy customers with the strongest and most reliable DNS service currently offered. DNS Defense includes constant deep packet analysis and anomaly detection, which allows attacks to be detected and responded to immediately. The global IP Anycast network that was revolutionized by DNS Made Easy allows the impact of a distributed attack to be spread across all nodes, significantly reducing its effect. All nodes within the DNS constellation are protected through a multi-tiered security model and a fully meshed site-to-site VPN to secure, protect, and authenticate all site-to-site data transmissions. The DNS Defense system monitors and centrally blocks offensive hosts and/or netblocks, while also providing industry leading DDoS protection.
"DNS Defense provides a layer of security that is unsurpassed in the market by any provider today," stated Bryan Hughes, VP of System Operations. "This is a level of security that all users should require and demand from any third party DNS provider. DNS Made Easy is proud to be the first provider to encompass all of this necessary security under one platform."
DNS Defense combines all of DNS Made Easy's standard methods of protection under one heading. It is their response to the increasing concern over security risks, and a large reason why DNS Made Easy has been able to maintain the industry's leading uptime.
Besides helping their clientele rest a little easier knowing that they are running on one of the most secure DNS networks on the planet; DNS Made Easy insists that it's not only security protocols and firewalls that prevent attacks of any volume but increasing bandwidth capacity as well.
With the increase in Denial of service attacks in recent months, DNS Made Easy has raised the standard based on other providers in the industry. In addition to the DNS Defense platform, the company's network team is also regularly trained to mitigate the effects of any potential predator or attack in real time.
These additional measures safeguard DNS Made Easy's network from attacks, in most cases before they even occur. Often these attacks will take place in the evening and continue on throughout the night or straight through the weekend.
The network team of DNS Made Easy has become industry experts in dealing with attacks. Team members from DNS Made Easy's network team have gained first hand knowledge in learning and and mitigating attacks. In fact, over the company's 8 year history in the DNS space, DNS Made Easy has an impressive 99.9999% uptime history. This sort of record is virtually unheard of in the industry, as is this level of commitment each DNS Made Easy staff member commits, to eliminate issues before they become problems. The company is so certain in its efforts and knowledge that they are industry leaders in offering a 100% uptime guarantee. Should a client's service drop due to DNS Made Easy's nameservers failing they will credit 500% of the downtime.
About DNS Made Easy
DNS Made Easy is a subsidiary of Tiggee LLC and is a leader in providing global IP Anycast enterprise DNS services. DNS Made Easy launched their DNS services and web management portal in 2002 and has grown to manage hundreds of thousands of customer domains receiving more than 1.5 billion queries per day. DNS Made Easy has a proud history of 99.9999% DNS uptime and industry leading ROI since launching their DNS service.
About Tiggee LLC
Tiggee LLC (tiggee.com) is a privately held company, formed in 1999 to provide innovative internet solutions for businesses. "Putting your business on the Internet is our business." Tiggee LLC's subsidiaries include DNS Made Easy (IP anycast enterprise managed DNS services – dnsmadeeasy.com), VPSit (enterprise virtualization environments – vpsit.com), Host Made Easy (dedicated server hosting and co-location services – hostmadeeasy.com), Top Level DNS (TLD name services – topleveldns.com), Resolving Name Server (resolvingnameserver.com), Show My Host (showmyhost.com), Reverse DNS Trace (reversednstrace.com), IPv6 Verify (ipv6verify.com), and Domains Made Easy (domainsmadeeasy.com).
###