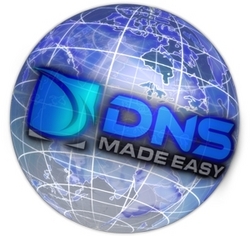 What features would you like to see implemented into our service?
Reston, VA (Vocus) October 27, 2010
DNS Made Easy, the world leading IP Anycast DNS provider, reconfirmed to building services and features that their clients required. The IP Anycast provider DNS Made Easy, is getting ready to introduce a slew of new features and additions to their network in the coming months. Though the company already has a plan for expansion drafted up, they are reaching out to their thousands of paying users, to see what features, geographical locations and policies they'd like to see. Features already added to the planned expansion include IPv6, Geographical DNS, an API for record management, and weighted load balancing.
When asked about the strategy, Bryan Hughes, VP of System Operation had this to say. "We've always taken the suggestions and requests of our customers very seriously, but we've never formalized the process by which they can submit their desired features, services, geographic locations, and other recommendations/ requests. While we have fulfilled users' requests in the past, we'd now like to see what the majority of our clients would like to see brought to the service. We want everyone to get involved and to tailor the network to fit most-if not all-of their needs."
DNS Made Easy will be releasing a mass email asking key questions of their users including: "What features would you like to see implemented into our service?" "What geographic locations are important to you?" and "What you would like to see from DNS Made Easy in the coming months?" DNS Made Easy is hoping to gain a check list of additional features and services to release within the coming year. This will help the company stay competitive as well as increase client loyalty. DNS Made Easy has always provided their clients with the best possible value of service in the industry. The company's new strategy will allow the client's themselves to choose the services, features, and network locations they invest their membership fees into.
"A company is only as strong as it client base," stated Steven Job, President of Tiggee LLC. "Our end goal is to empower ever single customer of DNS Made Easy and to strengthen our network while maintaining the industry's highest ROI and leading performance."
DNS Made Easy plans to call out to their customers and implement the most requested features within their feedback in the beginning of Q1-2011.
More information about DNS Made Easy can be found at http://www.dnsmadeeasy.com.
About DNS Made Easy
DNS Made Easy is a subsidiary of Tiggee LLC and is a leader in providing global IP Anycast enterprise DNS services. DNS Made Easy launched their DNS services and web management portal in 2002 and has grown to manage hundreds of thousands of customer domains receiving more than 1.5 billion queries per day. DNS Made Easy has a proud history of 99.9999% DNS uptime and industry leading ROI since launching their DNS service.
About Tiggee LLC
Tiggee LLC (tiggee.com) is a privately held company, formed in 1999 to provide innovative internet solutions for businesses. "Putting your business on the Internet is our business." Tiggee LLC's subsidiaries include DNS Made Easy (IP anycast enterprise managed DNS services – dnsmadeeasy.com), VPSit (enterprise virtualization environments – vpsit.com), Host Made Easy (dedicated server hosting and co-location services – hostmadeeasy.com), Top Level DNS (TLD name services – topleveldns.com), Resolving Name Server (resolvingnameserver.com), Show My Host (showmyhost.com), Reverse DNS Trace (reversednstrace.com), IPv6 Verify (ipv6verify.com), and Domains Made Easy (domainsmadeeasy.com).
###