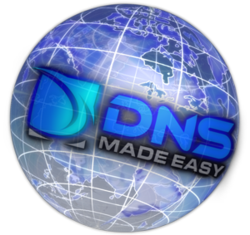 Reston, VA (PRWEB) October 17, 2011
DNS Made Easy, the world leader in enterprise IP Anycast DNS services, has announced a new Corporate Membership query pricing model that will be available to their corporate clients. DNS Made Easy indicated the price change was a result of global infrastructure improvements and aggregated bandwidth commitments, which reduces their cost per query at high volume levels. This cost savings has been passed on to customers to provide the best value to their corporate clientele in order to continue to provide the best ROI in the industry. This new pricing model will be available as an option in the upcoming release of the DNS Made Easy Control Panel 3.0. Providing the highest quality services with fair pricing are some of the many reasons that DNS Made Easy continues to be the preferred choice to over-priced and under-performing alternatives in the enterprise IP anycast market.
The new pricing model for Corporate Membership clients will not require a usage commitment and is tiered to provide built-in volume discounts. The new Corporate Membership pricing model is based on a model of actual usage rather than the former model which was based on commitment pricing.
All DNS queries the Corporate Membership client receives over their base query quota will be billed at flat rates per million queries as their query total progresses through the pricing tiers. The more traffic the client receives, the lower the price per query. With the new pricing model, DNS Made Easy clients are now rewarded with lower pricing for business success and high traffic to their websites. The new pricing plan is so economical that many of the DNS Made Easy Corporate Members will be saving from 20% to 80% on their monthly query pricing.
So far, DNS Made Easy reports that client responses to the pricing change have been overwhelmingly positive. DNS Made Easy has seen a record increase in corporate clients as well as upgrades to the Corporate Membership since the initial announcement of the pricing change.
This is an industry first in the enterprise IP anycast space. Many competing services in the industry attempt to lock organizations into high commitment levels in order to avoid egregiously high query overage pricing. DNS Made Easy management believes that this is punishment to the very users for which enterprise services should be priced and designed. "Once again DNS Made Easy is proving to be a leader in the IP anycast DNS industry," stated Steven Job, President of Tiggee, creators of DNS Made Easy. "As we have for almost 11 years, DNS Made Easy continues to be at the forefront of innovation, change, and providing world class DNS services with the highest ROI."
More information about DNS Made Easy suite of services is available at http://www.dnsmadeeasy.com
About DNS Made Easy
DNS Made Easy is a subsidiary of Tiggee LLC and is a leader in providing global IP anycast enterprise DNS services. DNS Made Easy implemented the industry's first triple independent anycast cloud architecture for maximum DNS speed and DNS redundancy. DNS Made Easy originally launched their DNS services and web management portal in 2002 and has grown to manage hundreds of thousands of customer domains receiving more than 5.0 billion queries per day. DNS Made Easy has a proud history of industry leading uptime and ROI since launching their DNS service. DNS Made Easy has been the preferred choice for most brands on the Internet compared to the over-priced and under-performing enterprise IP anycast alternatives.
About Tiggee LLC
Tiggee LLC (tiggee.com) is a privately held company, formed in 1999 to provide innovative internet solutions for businesses. "Putting your business on the Internet is our business." Tiggee LLC's subsidiaries include DNS Made Easy (IP anycast enterprise managed DNS services – dnsmadeeasy.com), VPSit (enterprise virtualization environments – vpsit.com), Host Made Easy (dedicated server hosting and co-location services – hostmadeeasy.com), Top Level DNS (TLD name services – topleveldns.com), Resolving Name Server (resolvingnameserver.com), Show My Host (showmyhost.com), Reverse DNS Trace (reversednstrace.com), IPv6 Verify (ipv6verify.com), and Domains Made Easy (domainsmadeeasy.com).
###