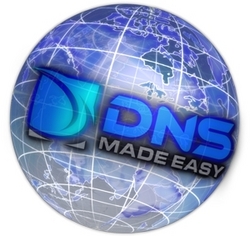 Our move to Dallas was invaluable to not only increase our capacity and redundancy, but also to provide faster response times to our clients.
Reston, VA (Vocus) October 7, 2010
DNS Made Easy, the industry's leading IP Anycast DNS provider, has announced the completion of the organization's third quarter network expansion. This expansion increased capacity in their Los Angeles, CA facility and adding two new nodes in Dallas, TX. Dallas was chosen as a crucial node as it is a major internet peering point for the United States.
"Our move to Dallas was invaluable to not only increase our capacity and redundancy, but also to provide faster response times to our clients." stated Steven Job, president of DNS Made Easy. "Overall our goal is to provide a better user experience with any network expansion and that is what we accomplished by adding these additional nodes to Dallas. The additional nodes will also help us mitigate downtime and cement our reputation for not only having the highest ROI of any DNS company, but outperforming our competition in speed and stability as well."
DNS Made Easy's commitment to increasing network performance while maximizing the return on investment is unprecedented in the industry. "Many clients often feel that you need to pay a high price for reliable enterprise DNS services. Pricing that is actually not affordable for the average small business or new startup looking to making a name for their brand. Many of the IP anycast providers in the industry actually try to justify their high pricing with their networks but usually are not able to provide anything similar to the DNS Made Easy network in regards to performance and reliability."
DNS Made Easy confirms that this is just another step in strengthening their networks and increasing performance. They have additional plans for last quarter of 2010 as well.
About DNS Made Easy
DNS Made Easy is a subsidiary of Tiggee LLC and is a leader in providing global IP Anycast enterprise DNS services. DNS Made Easy launched their DNS services and web management portal in 2002 and has grown to manage hundreds of thousands of customer domains receiving more than 2 billion queries per day. DNS Made Easy has a proud history of 99.9999% DNS uptime and industry leading ROI since launching their DNS service.
About Tiggee LLC
Tiggee LLC (tiggee.com) is a privately held company, formed in 1999 to provide innovative internet solutions for businesses. "Putting your business on the Internet is our business." Tiggee LLC's subsidiaries include DNS Made Easy (IP anycast enterprise managed DNS services – dnsmadeeasy.com), VPSit (enterprise virtualization environments – vpsit.com), Host Made Easy (dedicated server hosting and co-location services – hostmadeeasy.com), Top Level DNS (TLD name services – topleveldns.com), Resolving Name Server (resolvingnameserver.com), Show My Host (showmyhost.com), Reverse DNS Trace (reversednstrace.com), IPv6 Verify (ipv6verify.com), and Domains Made Easy (domainsmadeeasy.com).
###