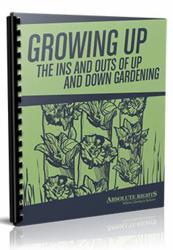 Ultimately, a food supply grown in a vertical garden could become a life-saving decision.
Austin, TX (PRWEB) February 11, 2013
A do it yourself vertical garden can be created with a little imagination and some guidance from the experts, according to a new article from SurvivalLife.com. The website and its Managing Editor 'Above Average' Joe have produced a Special Report to help people make the most of the space they have, and enjoy the benefits of growing their own food.
Growing Up: The Ins and Outs of Up and Down Gardening is the blueprint for growing all the produce a family could eat in a fraction of the space they think they might need. The article said vertical gardening is all about constructing practical and inexpensive planting systems that are just as good as a large plot of soil, and sometimes even more so. As little as two square feet of space, up to an average ceiling height, indoors or out, can be enough to grow an entire season's worth of food, said the article.
There's no denying the fact that more of the population lives in urban areas, where land is at a premium. With more apartment-style living comes fewer yards, and the article said that causes fewer opportunities for planting gardens. Growing Up will show people how easy it can be to become farmers without any acreage to speak of.
With vertical gardening, farmers actually have better control of their crops, according to the SurvivalLife.com article. They can extend the life and yield potential of almost everything they plant, giving them fresh food longer than traditional, Mother Nature-dependent farmers. Manipulating the water, light, and size of vertical garden plants gives far more control over the final outcome, said the article.
Any productive garden needs care and attention, but with a vertical garden there's no need for expensive tools, back-breaking work, or protection from nature and the elements. The article said Growing Up will share the best techniques for creating the most successful yet inexpensive growing systems.
Ultimately, a food supply grown in a vertical garden could become a life-saving decision. Should a major disaster hit an area, the article said that the supply lines of grocery stores and super markets would easily be disrupted. Those who are already growing their own food in a controlled environment won't have to worry about going hungry.
SurvivalLife.com is a non-politically biased source that is geared toward the survival side of prepping. Subscriptions to the daily Newsletter brings all of the latest information from SurvivalLife.com straight to readers' inboxes.
Whether readers need wilderness survival tips or strategies to plan for an urban disaster, SurvivalLife.com covers it all. Well on its way to becoming a preeminent member of the survival blog-o-sphere, SurvivalLife.com is contributing to the conversation and hopes readers do as well.
Potential farmers can spend a small fortune trying to make a vertical garden themselves, or they can consult a guide that will talk them through the best ways to do it. Creating a do it yourself vertical garden is a simple process with the help of Growing Up: The Ins and Outs of Up and Down Gardening, the Survival Life article said.