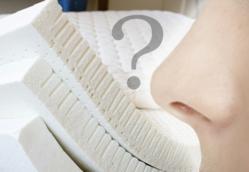 Phoenix, AZ (PRWEB) May 08, 2013
As concerns regarding VOCs and their impact on health continue to grow, consumers gravitate toward the use of natural products in their homes.
Differentiating between dangerous odors and those that are simply released from a new product can be difficult without an understanding of what is used in the manufacturing process. In order to address this concern, mattress blog SleepJunkie.org recently released an article explaining what consumers can expect regarding odors and latex beds.
Titled "Do Latex Mattresses Smell?", this article looks at what latex mattresses smell like, how this compares to other latex products and beds, and what consumers can do to reduce mattress odors. Sleep Junkie begins by reminding readers that almost all new items smell, and addresses the fact that the odor is caused by what they are made from. To offer perspective, the blog highlights the extremely low proportion of those who complain of odors with natural latex, and answers the question of smell in two parts.
As shown in the article, natural latex includes products including hevea latex milk, water, fats, and a handful of non-toxic chemicals which creates a product that is free from dangerous VOCs. The odor is described as somewhat sweet, relatively mild, and short-lived. Sleep Junkie explains that a natural latex mattress typically does not emit the same type of smell as rubber tires due to different manufacturing processes. The post also explains that synthetic latex and hybrid mattresses will have different odors depending on the substances used.
For those concerned about odors, Sleep Junkie offers a list several shopping tips and solutions. They recommend consumers select beds with 100% natural latex, natural covers, no adhesives, and suggest Talalay process latex which is washed five times after manufacturing. One brand the website recommends is Astrabeds, a retailer of 100% natural Talalay latex mattresses with Oeko-Tex 100 certification and no complaints of strong odors. Tips for further reducing odors center primarily on airing the material out.
The article concludes by comparing natural latex beds to other types of mattresses. Sleep Junkie states that, yes, latex can have a smell, but touts the odor of natural latex as the least offensive and least dangerous among other mattress materials since it should not contain harmful volatile organic compounds. For those considering a latex bed but concerned about odors and chemicals, the article will likely offer a comforting insight into the issue.
MattressJournal.com offers the latest bed news and mattress reviews to help shoppers research purchases and get the best sleep possible. Through careful, independent analysis of mattress types, brands, and sleep research, the blog offers expert opinions in readable, relatable format. With a focus on making the buying process simpler, Mattress Journal proves a valuable resource for consumers.