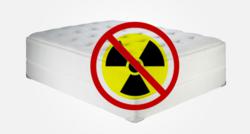 Los Angeles, CA (PRWEB) April 09, 2013
More and more people continue seeking information about the manufactured products they buy, with concerns about health and environmental safety taking precedence. Because one third of life is spent sleeping in bed, a toxic mattress poses significant concerns. Mattress Inquirer, a leading source of industry news, investigates the toxic mattress problem in their latest article, "Do You Have A Toxic Mattress?"
This article takes an in-depth look at critical sources of chemicals in beds, from flame retardants to adhesives, and even the mattress materials themselves. One of the most pressing issues the article confronts is that manufacturers are often not required to disclose what is used in or on products, since foam formulations and other chemicals can be classified as trade secrets.
Flame retardants have received the most attention in recent years, with the 2007 passage of mattress flammability laws and recent recalls. While it is noted that one harmful chemical retardant, PBDE, was voluntarily phased out a few years ago, many of the alternatives like antimony, boric acid, and resins prove far from healthy.
Mattress Inquirer then looks at glues and adhesives, which have been found to pose significant chemical risks as well, and are utilized in nearly all types of mattresses to bond layers and fabrics. Dozens of known toxic chemicals have been linked with both solvent-based adhesives and water-based adhesives. Many of these are Volatile Organic Compounds, or VOCs, which have been attributed to a host of long-term health issues, though extensive research is lacking due to the incremental, long-term nature of exposure.
Based on current technology, the article recommends wool and silica/rayon covers as the safest options, and avoiding all adhesives in mattresses. Four primary types of mattresses are also examined for chemical profiles, with traditional memory foam/poly foam and innersprings faring worst. Pure natural and synthetic latexes are believed to be the best options for non-toxic beds, though composition of the latex, adhesives, and flame retardants vary between manufacturers.
Seeking to answer the inevitable question of which mattresses actually are safe, Mattress Journal offers a summary of the previous points and few tips for consumers researching beds. They go on to recommend 100% natural Talalay mattresses from Astrabeds which meet the non-toxic guidelines presented with all-natural latex, no adhesives, organic cotton covers, wool fire barriers, and Oeko-Tex 100 certification.
Mattress-Inquirer.com is an informational blog that provides relevant and recent news related to the health, sleep, and mattress industries. In addition to covering new technologies, mattress reviews and opinion pieces, readers enjoy a variety of helpful educational resources designed to aid shopping and sleep quality.