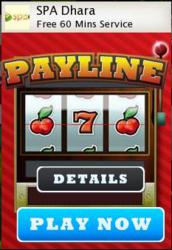 Our beta demonstrated that Dobango casino style games are highly engaging and addictive
Sunnyvale, CA (PRWEB) May 09, 2012
Dobango, a leading social gaming company, today announced that it is coming out of stealth mode having completed its beta phase and launched its service where users play free games and win prizes.
Local merchants sponsor prizes. Users engage with the merchant by playing 30-second games in a virtual tournament. Winners receive prizes and exclusive discounts which drives online traffic to merchant stores.
According to BI Intelligence, Business Insider's research service, the US social gaming market, including smartphones, will be a $5 billion market by 2015.
"Our beta demonstrated that Dobango casino style games are highly engaging and addictive" said Dev Gandhi, CEO and co-founder of Dobango. Mr. Gandhi previously founded Nexage, the leading mobile advertising exchange that serves billions of mobile ads in major games and premium publishers. "Casual game players will experience a richer engagement. Merchants will have an even better way to connect with customers. Our goal is to delight and enchant our users and deliver great results for businesses" he adds.
Dobango launched its social gaming beta service in July 2011. Within three months, Dobango received several thousand Facebook 'Likes', and signed up more than 200 retail establishments and restaurants such as the Gordon Biersch Brewing Company of San Jose, CA, and BlueLight Cinemas in Cupertino, California.
"We prefer Dobango over Groupon and LivingSocial," said a representative of Gordon Biersch Brewing Company. "Dobango helped bring in higher quality customers that are more likely to come back, rather than clients looking for one time low-ball deals."
Dobango expands the social gaming arena by using the amplifying power of social media. Facebook members can play tournaments, challenge their friends, share and post comments. Every player wins. Every game is linked to a prize and discount at local retailers.
Dobango has received an undisclosed amount of seed funding from silicon-valley angel investors and the company is currently profitable.
About Dobango, Inc.
Dobango is the only social gaming company where users play for free and win real prizes sponsored by merchants. Dobango's cross-platform games helps merchants drive online traffic to offline stores. It's a highly effective marketing media with a proven ROI that is many times better than traditional advertising methods. Dobango's virtual tournament and casino-style games are available on Facebook, iPhone, Android phones and the Web. Dobango is privately held and is based in Sunnyvale, California. For more information visit http://www.dobango.com. Download Apps on iPhone, iPad (http://itunes.apple.com/us/app/play2win/id432643192?mt=8 ), and Android (https://play.google.com/store/search?q=dobango ).