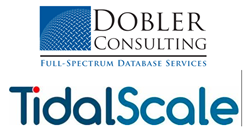 "We look forward to changing the future of data management with our expert partners at Dobler Consulting." -Gary Smerdon, President & CEO TidalScale
TAMPA BAY, Fla. (PRWEB) October 15, 2019
The ability to technologically scale and right-size servers, coupled with the expertise to rapidly implement and manage this revolutionary Software-Defined Server technology is the synergy behind the partnership between Dobler Consulting and TidalScale. Implementation of Software-Defined Server technology brings enterprise-level clients breakthrough performance and flexibility in programs like Oracle Database, SAP HANA, Sybase and other in-memory and analytics workloads.
News Summary:

Both Dobler Consulting and TidalScale are recognized as thought and market leaders in the data management sector. Dobler Consulting was recently named by CIO Applications magazine as a Top 10 Oracle Solutions Provider and TidalScale was named by CIO Review magazine as one of the 20 Most Promising Solutions Providers for Oracle and SAP.
The immediate value of TidalScale Software-Defined Server technology is that it delivers in-memory performance, deploys in minutes, is massively scalable and is designed to pay-as-you-grow.
The long-term value is that flexible cost and ease of deployment can more readily enable more exploratory IT initiatives beyond the production environment.
Dobler Consulting is a Gold Certified SAP, Oracle, Microsoft and Sybase Database Service Provider.
Peter Dobler, CEO Dobler Consulting
"Software-Defined Server technology will transform the Cloud, the Data Center and our Oracle, SAP HANA and Sybase client's ability to creatively scale and leverage the value of their data assets. TidalScale is at the fulcrum of this transformative moment in IT history and we are more than excited to partner beside them."
Gary Smerdon, President & CEO TidalScale
"As Software-Defined Server technology continues to penetrate the market, we look to the serious expertise of partners like Dobler Consulting to help implement our technology vision and articulate the value proposition of intelligent server scaling to fit the workload. We look forward to changing the future of data management with our expert partners at Dobler Consulting."
About Dobler Consulting:
Dobler Consulting is a database management and information technology services firm that provides a wide spectrum of world-class solutions to SMBs and Fortune companies in a variety of industries including manufacturing, media, healthcare, transportation, and financial services. Founded in 2008, Dobler Consulting provides architectural and high availability design reviews, database health checks, cloud migration strategy, and implementation, performance tuning and production support both as a remote managed service or on a project basis. In addition to being an Oracle Gold Partner, Dobler Consulting is a certified Microsoft Gold Partner, SAP Gold Partner, Sybase Partner and Amazon Web Services Select Partner.
About TidalScale, Inc.
TidalScale is the leading provider of Software-Defined Servers. By right-sizing servers on-demand, TidalScale helps organizations achieve results sooner and at a lower cost than traditional scaling options. We help businesses monetize their data, transform the economics of the data center and make the promise of Software-Defined Servers a reality. TidalScale has specific optimizations for Oracle Database and SAP HANA and was listed among the 20 most promising Oracle and SAP solution providers in 2019 by CIO Review. The company was named a Gartner Cool Vendor for 2017 and an IDC Innovator[i] for 2017 and was a winner of the Red Herring Top 100 Global award. TidalScale is privately held with backing from Bain Capital, HWVP, Sapphire Ventures, Infosys, Citrix, SK Hynix, Forte Ventures, and Samsung. Learn more at http://www.tidalscale.com.
Dobler Consulting Contact:
Peter Dobler, CEO
Dobler Consulting
813-322-3240
pdobler@doblerllc.com
https://www.doblerconsulting.com
TidalScale Contact:
David Oro
tidalscale@orogroup.com