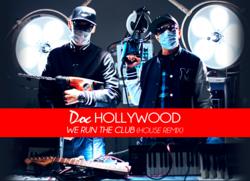 Perez Hilton also dubbed Doc Hollywood a "big hit" that will "transport you to Ibiza" with tracks that are "perfect for your gym mix."
Hollywood, CA (PRWEB) January 09, 2013
Doc Hollywood (a music duo from LA) recently released their new single, "We Run The Club (House Remix)" in anticipation of their upcoming album: "We Run LA LP" slated for January 10 2013. The single is a remix of "We Run LA," their first radio smash which is currently the theme song to Ryan Seacrest's new hit show on Bravo: Shahs of Sunset (2.3 million viewers). Both singles are on iTunes.
"We Run The Club" is an EDM opus that layers Louie's original sing-along summery vocals from "We Run LA" over a new uplifting and festival-ready electronic crescendo. The remix is currently breaking ground in radio markets in the US and is buzzing on New Music Server and DJ City, the top 2 trend-setting music sites for radio and club DJs around the world.
Their original single, "We Run LA," was a runaway smash on the west coast, enjoying top 40 radio success and propelling Doc Hollywood into the music scene, prompting Variety Magazine to label them as an "infectious ubiquitous fixture". Blogs were soon describing their tracks as "habit forming," a "must buy," and"dangerously catchy." Perez Hilton also dubbed the duo a "big hit" that will "transport you to Ibiza" with tracks that are "perfect for your gym mix."
Louie Rubio, the singer and multi-instrumentalist in the group recounts the creation of "We Run LA" -- "we were having a crazy night in Hollywood and got inspired by our hometown. So we headed straight to the studio and finished the demo by breakfast the next day." Lex Larson (the other half of Doc Hollywood) elaborates, "it was just a free song for our fans. Everything changed once DJ Felli Fel got his hands on it."
When DJ Felli Fel (Power 106 DJ and world famous hit producer) got the demo, he played it back to back 4 times on the air, calling it "the best song on the radio". Power 106 then upgraded "We Run LA" to hourly rotation and the other pop radio stations followed suit (KIIS FM and AMP Radio). US Magazine was soon branding Doc Hollywood a "debut hit…without a record deal!"
The group is currently getting national exposure through Ryan Seacrest who is using "We Run LA" as the theme song to his hit show Shahs Of Sunset on BRAVO (2.3 mil viewers). As a result, a sudden stream of "We Run LA" fan-made covers, videos, and remixes have popped up all over the web; including a remix from dubstep favorite Dillon Francis.
Inspired by the reaction of their fans, Doc Hollywood decided to remix their own hit and renamed it "We Run The Club (House Remix)". The single leads their new 9-track-LP "We Run LA": an album that offers an eclectic mixture of house anthems and indie tracks with hints of rap influence sprinkled throughout. The LP also features club legend Martha Wash (Black Box and C+C Factory) on 2 tracks.
THE DUO THAT FORMED DOC HOLLYWOOD
When singer/multi-instrumentalist Louie Rubio teamed up with studio-wiz Lex Larson, their different skills proved to be a perfect match. Together, the Los Angelino duo formed Doc Hollywood and began collaborating.
The duo paid their dues while running a studio in Hollywood full-time, dealing with music of all genres and refining their skills in the process. Louie mentions,"Because of our past, we always find ourselves experimenting with different genres. It's part of our musical DNA." The end result is what Arjan (ArjanWrites) hails as a "catchy and sizzling potent mixture of electro."
Lex explains their creative process: "Louie usually comes in and tracks out live drums, guitars, synths -- what have you. Then I'll start polishing and mixing all the layers together. Once I'm done Louie comes back and lays his vocals and we'll mix." In an era where most DJ's craft their anthems on laptops, Doc Hollywood tackles their tracks like a record production duo, bunkered in a studio littered with vintage instruments and gear.
Louie Rubio, having come from a visual arts background also takes care of duo's graphic design, photo shoots and music videos. Lex Larson puts his technical talents to use and mixes and masters everything in-house as well. Louie reveals, "We are as independent as it gets. Everything is 'DIY' from the bottom up." Lex continues, "From demo to mixing to mastering to art to the music videos. We're involved every bit of the process."
As Doc Hollywood buckles down for their upcoming LP release "We Run LA", they set their sights on the future. The duo plan to on shooting a music video for We Run The Club (House Remix) in January. The two also plan on finishing their future projects: a dubstep-rap hybrid EP with rap legend Ras Kass in February, a follow-up EDM EP in the spring, and finally Louie Rubio's solo project this summer.
Some of their licensing placements include: Shahs of Sunset, Dodgers, Lakers, ESPN, 90210, Bad Girls Club, Brothers and Sisters, Lincoln Heights, Bones, MTV's Bad Girls Club, The Real World, The Hills, a Nivea commercial, and an HBO Go commercial. The two have also performed on stage with Katy Perry, LMFAO, Pit Bull, Lil Jon, Pharell, Avril Lavigne, Kevin Rudolph, and Robin Thicke.