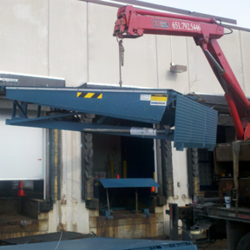 We simply focus on providing solution based repairs, quality products, and fair prices.
Nowthen, MN (PRWEB) March 20, 2012
While many other businesses are struggling to make ends meets, Dock & Door Tec (DDT) is thriving in a highly niche industry. Although, MN loading dock repair and installation generally does not have a place in the forefront of most people's minds, DDT recognizes what a pivotal role this equipment plays in many businesses and has combined this need with their own expertise to become one of the leading loading dock equipment and service providers in Minnesota.
When asked what he considers the force behind the growth, DDT owner Jay Anderson said, "Our formula isn't complicated; we simply focus on providing solution based repairs, quality products, and fair prices. We find these elements resonate with our customers and motivate them to spread the word about our business."
Of course, many businesses claim to have these traits, yet don't experience growth levels comparable to Dock & Door Tec. When questioned about what specifically sets his company apart, Jay responded, "We have the most thorough technical training program in the industry, which covers all of the various manufacturer's brands. This training combined with the technicians strong technical background, years of experience in the loading dock & door industry, and deep knowledge of the equipment allow us to have the expertise needed to deliver on our promises. Also, we owe a lot of our recent exposure to our new online strategy and website that, with the help of Spark Logix Studios (Web Design MN), we launched several months ago."
On their website, consumers can read testimonials and find information about all of DDT's products and services, which includes Loading Dock Installation as well as a full range of maintenance and repair services. Those within the company are confident their straightforward methods will continue to result in happy customers and continued expansion. To learn more about what DDT has to offer, visit Dock & Door Tec.