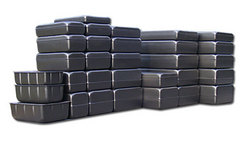 Floating docks install quickly and easily, and can withstand extreme conditions found in most marine application
Hunt Valley, MD (PRWEB) July 23, 2009
Universal Foam Products, LLC announced that it now offers two ways to build a marine boat docks or party decks: custom expanded polystyrene (EPS) floatation blocks and Formex encapsulated floats.
EPS Floatation Blocks
EPS floatation blocks are the perfect economical solution to extreme temperatures, constant exposure to salt and water, and a demand for structures which can take a beating. It's waterproof and if it's punctured or damaged, your dock will continue to function. EPS is also environmentally friendly and its lightweight nature makes transport and assembly simple. EPS floatation blocks are supplied in an infinite number of sizes to accommodate your requirements. Each cubic foot of EPS will float 55-lbs. of weight.
Formex Encapsulated Floats
Since many public bodies of water now require floatation to be encapsulated, Universal Foam Products also offers a full line of encapsulated dock floats manufactured by Formex that install quickly and are extremely durable. You don't have to limit yourself to a pre-built configuration. Your dock is as customizable as you want it to be. With 32 different HMWPE encapsulated float sizes in-stock and ready to ship, there's no limit to building the ultimate floating dock.
"Floating docks install quickly and easily, and can withstand extreme conditions found in most marine application," says Les Rush. "Formex dock floats have a 12-Year Limited Warranty and meets U.S. Army Corps of Engineers Regulations. You won't find a more solid and reliable dock floatation system anywhere!"
About EPS Floatation
Often confused with STYROFOAM™ Brand Foam, EPS is lightweight and extremely buoyant, can be shaped and molded to fit the demand of marine construction and it holds up under year around environmental conditions. Universal Foam Products supplies the highest quality EPS floatation blocks to fit any marine floatation application. Lightweight, yet extremely tough against the elements, EPS floatation offers great strength and versatility, without the hassles of building a stationary dock.
EPS floatation blocks are shipped from over 80 locations nationwide and are custom cut to the size you need for your particular project.
About Universal Foam Products
Universal Foam Products is a supplier of STYROFOAM Brand Foam, expanded polystyrene and other types of foam products nationwide from over 100 locations throughout the United States. Visit http://www.univfoam.com/products/floatation for more information.
Press Contact:
Les Rush
Universal Foam Products, LLC
lrush@univfoam.com
(410) 825-8300 x226
Copyright ® 2009, Universal Foam Products, LLC. All Rights Reserved. STYROFOAM™ Brand Foam®™* Trademark of The Dow Chemical Company ("Dow") or an affiliated company of Dow
###