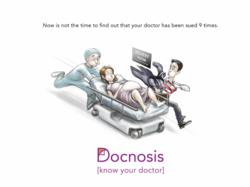 Now patients don't have to rely on anonymous online reviews to choose a doctor
Pensacola, FL (PRWEB) January 18, 2013
There are doctors practicing all across America with 10, 20, even 50 or more malpractice cases against them. The states allow these doctors to keep practicing, but will patients once they find out?
45% of all hospital patients fall victim to medical errors, but most patients don't learn about their doctor's malpractice cases until they experience a medical error themselves. Docnosis.com was founded to empower patients to make fully-informed decisions before they undergo a procedure with an obstetrician, cardiologist, plastic surgeon, or any health-care provider.
"When you look up a doctor on Docnosis.com, you will see the legal history of the doctor you are considering, but Docnosis will also identify two other doctors in that same area and specialty who have never been sued," says Phil Hall, CEO and co-founder of Docnosis.com.
"The choice a patient makes at the outset greatly influences that patient's likelihood of having a good outcome. And studies clearly show that health-care providers with prior malpractice claims are more likely to cause what the medical community calls a 'never event,' and our data supports that conclusion," he adds.
"The problem is that the average patient has no idea until it's too late. Certain doctors just quietly rack up malpractice cases while other doctors doing the same procedures in the same locale go their entire careers without ever having a lawsuit. Patients don't see this discrepancy, but it's loud and clear in our data sets," asserts Phil Hall.
Docnosis.com has positioned itself to be able to give patients unbiased reports on all health-care providers. "Because Docnosis.com does not solicit advertisements from hospitals or health-care providers, Docnosis can freely identify which doctors have had malpractice suits. Now patients don't have to be held hostage by anonymous online reviews and stars and incomprehensible ratings systems," adds co-founder, Jack De La Piedra, CFO. "We really wanted to keep industry money out of this equation so we could offer facts instead of anonymous opinions."
Today, Docnosis services more than 80 million people across America, in states like Florida, including Miami, Ft. Lauderdale, West Palm Beach, Tampa-St.Petersburg, and entire states of New Jersey, Connecticut, Rhode Island, Delaware, Washington, Wisconsin, Minnesota, Iowa, Utah, and Alaska. Other major cities include Washington D.C., Philadelphia, San Diego, San Jose, Corpus Christi, Reno, Memphis, and Charleston.
Soon Docnosis will expand its scope to more than 120 million, including New York, Chicago, Houston and Oregon.
"We've assembled a team of gifted professionals with a singular focus," adds co-founder, Mike Roberts, COO. "This group is dedicated and committed to a product they believe in because they know it can help patients get better care across America."
About Docnosis.com
Docnosis.com is the first truly patient-centric doctor-review service available in the United States. By parsing more than a billion court records across America with the sole purpose of identifying quality physicians, Docnosis can quickly, easily, and accurately identify doctors with patterns of malpractice claims, so patients can make smarter choices about their health care.