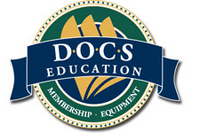 Oral sedation dentistry, I believe, has done more to enhance the lives of dental patients and their doctors in the past decade than any other dental protocol, technique, appliance or practice
Seattle, WA (Vocus) June 8, 2010
This week marks a decade since the founding of DOCS Education, the world's leading educator of sedation dentists and oral health professionals.
Oral conscious sedation, as taught by DOCS Education, has become an immensely popular form of treatment for people who were previously squeamish about visiting their dentists. More than 2 million once fearful and anxious patients have been safely and effectively helped by DOCS Education-trained oral health professionals.
Rather than avoiding the dentist altogether or approaching each dental visit as if it were a trip to a torture chamber, sedation dentistry patients are completely relaxed and comfortable throughout their dental visit.
DOCS Education-trained dentists are able to alleviate their patients' searing oral pain; prevent tooth and bone loss; heal infectious oral cavities; and rebuild bright and full smiles – all using a safe, soothing and anxiety-free process. For many patients, the results positively transform the quality of their lives.
When DOCS Education was founded in June 2000, the use of oral sedation to comfort anxious dental patients was novel. Since then, more than 20,000 dentists and their dedicated oral health teams have completed DOCS Education courses.
Oral conscious sedation is now part of mainstream dentistry.
"Oral sedation dentistry, I believe, has done more to enhance the lives of dental patients and their doctors in the past decade than any other dental protocol, technique, appliance or practice," says Dr. Michael Silverman, co-founder of DOCS Education.
Beyond tending to their patients' oral health, sedation dentists have discovered the many benefits DOCS Education training brings to their own lives and practices.
"Like the very best gifts, what we've imparted to our patients has given back to us," observes Dr. Silverman. "More than anything else, professional graduates of our various continuing education classes thank me for restoring the satisfaction to their work – for allowing them to treat patients safely and efficiently without having to suffer along with their patients' emotional and physical pain."
DOCS Education will celebrate its 10th Anniversary at a black-tie gala to be held this week at Seattle's iconic Columbia Tower Club, located 76 stories above the sprawling city and Puget Sound. Graduates of DOCS Education courses from around the country will join with founders, faculty, family and friends to honor their accomplishments and look to the decade ahead.
"When I co-founded DOCS Education a decade ago, I set out to educate what I thought would be a comparatively tiny group of other general dentists," Dr. Silverman recalls. "What time has demonstrated, however, is that there are no limits to the appreciation of patients and dental professionals alike for innovations that markedly improve their lives."
Dentists who would like any additional information on sedation dentistry and training courses, are invited to phone (877) 325-3627 or visit the professionals' website at http://www.DOCSeducation.com.
Consumers with questions about fear-free, anxiety-free sedation dentistry should call (888) 858-7972 or visit the patients' website at http://www.SedationCare.com.
# # #