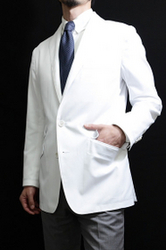 A friend asked me once why there weren't any
Tokyo, Japan (PRWEB) August 20, 2009
The white coat has defined a doctor for generations, and not much has changed in the style, design and overall impression of the white doctor coat until now. Classico, Inc has paired high-quality tailoring with the traditional appearance of the white lab coat, and created a jacket that fits the body comfortably and attractively with many finely tailored details.
"A friend asked me once why there weren't any "stylish" doctor coats out there," says Arata Ohwa, CEO of Classico, Inc, "We decided our goal was to make a doctor coat that is stylish, elegant and we want it to make people happy, confident and spirited giving them a good impression by wearing it."
The doctor coats created by Classico, Inc are designed by the highly credentialed Creative Director, Nobuo Ohmameuda. The creative director focuses on the finer aspects of the jacket to create a truly custom, tailored feel. The doctor coats are both durable and comfortable. The coats are made with advanced, high-quality Japanese tailoring.
It is the small details of the doctor coats that stand out - the careful seaming around the shoulders, the duel interior pockets, the slight tailoring around the waist and chest. The doctor coats have a slender fit and create a slimmer profile as well.
The doctor coats are made from sturdy, soft material and lined with softer shirt fabric. The coats are also carefully coated with the antibacterial protection necessary for use in a hospital environment. The quality and customization of the doctor coats make them highly desirable by doctors, creating a new fashionable trend in lab coats.
"As we hope to provide products of highest quality, each coat is cut and sewn domestically in Japan," explains Ohwa, "We do not mass-manufacture our items in order to avoid damages caused by moisture and sunlight, and our finished products reflect this quality of care."
Classico, Inc offers a thirty-day satisfaction guarantee on the doctor coats to ensure customers are satisfied.
For additional information regarding the products or techniques of Classico, Inc, contact Arata Ohwa or visit http://www.classicolabcoat.com.
About Classico, Inc.
Classico, Inc, founded in 2008, uses traditional technique as well as innovation to create tailored doctor coats suitable for everyone.
Contact:
Arata Ohwa
CEO
Classico, Inc.
info (at) classicolabcoat (dot) com
Kamimeguro 1-3-16-303, Meguro-ku,
Tokyo, Japan
http://www.classicolabcoat.com/
###