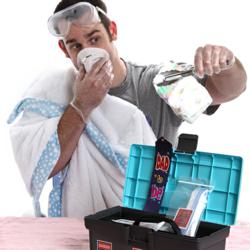 The two dueling dads were adorned with items from the Daddy Diaper Changing Toolbox which were the poop poncho, goggles, and gloves.
Tampa, FL (PRWEB) August 29, 2012
GiftsForDadToBe.com, a leading online retailer for New Dad Gifts, was featured on the September 12th, 2012 episode of "The Doctors TV Show". The show segment is titled New Dad Diaper Duel.
Diaper duty is more than just a challenge, Robin Williams coined it perfectly "You may have been a lumberjack, you may have been a marine, you may have seen blood and guts. But you have never seen caca like this. It's incredible stuff: part-toxic waste, part Velcro™." The diaper changing episode took a fun and light hearted approach to diaper changing just like the Daddy Diaper Changing Toolbox a gag gift for new dads. The two dueling dads were adorned with items from the Daddy Diaper Changing Toolbox which were the poop poncho, goggles, and gloves. The expectant dads with zero previous diaper changing experience had 30 seconds to change their first diaper with speed and accuracy being of utmost importance. Moms-to-be Joelle and Lindsey cheered on their men, Nick and Todd as time raced off the clock.
In the past, expectant fathers have been overlooked and excluded from baby showers, which has led to a sparse selection of gifts with the daddy to be in mind. Four years ago, a diaper allergic man had an idea to make a gift that would help Dads have a fighting chance with their first diaper change. That gift, The Daddy Diaper Changing Toolbox is now patented (Patent No. 8,047,375), and sales exceed $100,000 with worldwide distribution to Dad's with a sense of humor. In this day and age, lack of knowledge or willingness of changing a diaper will not get the soon to be dad a hall pass from diaper duty. The combat of diaper warfare will be knocking or screaming at their door.
The Daddy Diaper Changing Toolbox has a treasure trove of tools that make the task manageable. The unexpected surprises a new bundle of joy can shell out tend to produce an environment which is conducive to humor. This makes the Daddy Diaper Changing Toolbox an ideal gift for expectant dads. A few patented items that adorn the dad-to-be are a Poop Poncho, bio-hazard mask, tongs, gloves, and goggles. Think of it as a diaper duty survival kit or gag gifts for new dads.
The Doctors is an Emmy Award-winning daytime talk show that features a "dream team" of medical professionals covering various health-related topics, in a compelling and entertaining format while answering audience and viewer questions. The Doctor's TV show a CBS production is syndicated to 14 million TV viewers worldwide per week.
During the 2012 Father's Day season the popular Daddy Diaper Changing Toolbox has been on all four Major TV networks NBC, CBS, ABC, and FOX across the nation from San Diego to Atlanta. In the previous year it made an appearance on NBC's TODAY show with Bobbie Thomas.
This family focused business just recently rolled out several Daddy T-shirt designs and Chalkboard Maternity T-shirts for proud new parents. These tees are funny, unique and clever dad and mom gifts. Gifts for Dad to be has something for every Dad including the adorable Daddy to be T-shirt or the ever-so-funny "Real Men Change Diapers" T-shirt. A popular matching baby and father onesie I Make Adorable babies is a must for the matching mother in the arsenal of cute baby clothes.
About the Company:
Gifts For Dad To Be is based in Tampa, Florida. The mission is to develop products that encourage and acknowledge dad´s involvement in raising children with a little light hearted fun. The Daddy Diaper Changing Toolbox arms new dads with everything they would need for their very first diaper change as well as provides them with a chuckle as the premier baby shower gift for dad. The Daddy Diaper Changing Toolbox is patented Patent No. 8,047,375; additional patents are pending.
Buy Now at http://www.GiftsForDadToBe.com