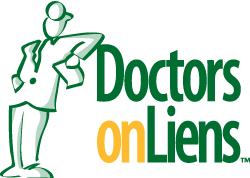 (PRWEB) May 07, 2013
Doctors on Liens, Inc., the leading network of qualified medical professionals specializing in med/legal evaluations and treatments for personal injury and workers' compensation cases, has just expanded their foldout map to make finding resources easier than it's ever been.
Legal professionals who need medical resources on a lien basis have long turned to the Doctors on Liens™ foldout map as a reliable resource. The map is updated quarterly and is sent out to legal firms throughout California. In response to frequent user requests, the Doctors on Liens™ map has been expanded from six pages to eight and now includes an inset of the San Diego region.
The new map also rolls out new branding strategies, including photographs of actual doctors from the Doctors on Liens™ network. "Our competition is all using the same stock imagery that reveals nothing about their company or their services." says Doctors on Liens, Inc. President Samantha Parker. "Featuring our actual members is a way we can differentiate ourselves and emphasize our quality."
Doctors on Liens, Inc. prides itself on upholding the highest of standards for their doctors. Each member must be practicing for at least five years and be referred by another doctor or medical/legal office of high standing.
Doctors on Liens, Inc. also believes that doing good is good for business. For each doctor that signs up, Doctors on Liens, Inc. sponsors a child with Blessings in a Backpack, a program that provides elementary school children who are on the Federal Free and Reduced Price Meal Program with a backpack of food to take home for 38 weekends during the school year.
Doctors on Liens, Inc. is an innovator in the physician referral industry and has forged close relationships with both legal firms and medical practices over the past 20 years. The Doctors on Liens™ map and website feature medical specialties including board certified orthopedic surgeons, neurologists, general practitioners, psychologists, and chiropractors. Each medical office is independently owned and operated and all appointments can be conveniently scheduled directly with the facility. Best of all, there is no cost or fee to legal organizations who use the list.
The Doctors on Liens™ network proudly represents medical professionals who offer services on a lien basis in Central and Southern California, as well as parts of Nevada.