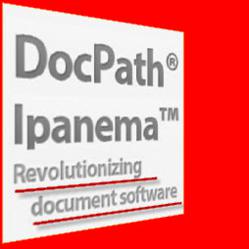 Clients that tested the videos are very satisfied with the results, since the overall comprehension of the steps to be performed is highly improved.
Suwanee, GA (PRWEB) July 31, 2012
With the "How To" videos, DocPath offers a more practical, user-friendly, immediate and direct understanding of its software and shifts to an environment-focused documentation process.
Clients that tested the videos are very satisfied with the results, since the overall comprehension of the steps to be performed is highly improved.
DocPath has decided to eliminate paper in the documentation processes of its document management software, based on DocPath Ipanema Technology. As of July 2012, DocPath users can consult different "How To" video tutorials, which give a detailed, concise and practical overview of how to work with the new DocPath solutions. All videos are accessed via the Help menu of the DocPath applications.
As the goal is to replace paper-based as well as electronic business documentation, the development of video tutorials is now part of DocPath´s corporate policy. Consequently, users will easily learn how to use the new software through a visual, immediate and dynamic method. They will be guided by a voice-over and English subtitles, which will be available in other languages shortly.
For a short period and to facilitate adaptation to this new innovative corporate policy, DocPath document management software users will be able to consult paper-based and electronic documents, as well as video tutorials. The first DocPath module -the pilot project- to include video tutorials is DocPath Builder. These How-To videos have been tested and evaluated by DocPath clients, which were highly satisfied with their ease of use and the step-by-step instructions.
Visual and straightforward
DocPath not only strives to be a sustainable company focused on the environment, but also aims to take part in the growing trend that takes the ease of use and simplicity of electronic devices used for entertainment to a professional level. For this reason, the company decided to simplify its documentation and provide its clients with a more visual and straightforward learning tool, in the form of video tutorials.
The flexibility of this new format reduces the time needed for creating and updating the documentation. To access the latest version of a video tutorial, users simply need to be connected to the Internet, and click on the Help menu in the DocPath Builder interface. Thus, any client can watch the DocPath video tutorials. Moreover, these videos are displayed via on demand streaming media, which means that users can download the videos at any moment and from any location, using their PC or mobile devices (Smartphone or tablet).
About DocPath
DocPath is a leading document technology software manufacturer. Founded in 1992, its headquarters is located in Madrid, Spain, with offices in the USA, Brazil and Chile. DocPath solutions are found in companies all over the world. Among its international clients are prestigious banks and first-class corporations, which are aided by DocPath solutions by simplifying the complicated and critical tasks involving design and the distribution of documents. DocPath maintains a strong commitment to R&D&i, an area that receives a good amount of its revenue, and in which lies the key to the company´s success.
For more information, visit http://www.docpath.com.
DocPath is a registered trademark of DocPath Corp. All rights reserved. Other trademarks may be the property of their respective owners.