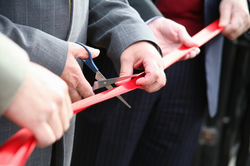 We have seen significant growth in our customer base...[DATAMARK's] clients are focused on leveraging external expertise to continuously improve their ongoing operations
San Antonio, TX (PRWEB) May 11, 2010
DATAMARK, Inc., a U.S. based Document Processing and Document Management firm that also provides Consulting services, announced today that it has opened a new office in San Antonio, Texas. The San Antonio processing center extends DATAMARK's footprint to another U.S. location and increases the ability of their clients to redundantly scale up or scale down based on business needs and economic conditions.
The new office will initially serve the company's San Antonio-based flagship client USAA.
DATAMARK's Lean-Sigma document processing solutions, impact a broad range of business challenges, including security, customer service, cost control, regulatory compliance and environmental sustainability.
"We have seen significant growth in our customer base and the level of interest in document processing services," said Bill Randag, President of DATAMARK, Inc. "Our clients are very focused on leveraging external expertise to continuously improve their ongoing operations."
San Antonio is the most recent addition to DATAMARK's global platform of processing centers. DATAMARK's U.S. headquarters and satellite operations are located in El Paso, TX and San Antonio, TX respectively. These cities provide high-quality, high-availability labor markets relative to the rest of the U.S. and were chosen by DATAMARK because they are centrally located and are not prone to natural disasters, nor other common business interruptions.
Similar to DATAMARK's existing processing centers, the San Antonio facility puts heavy emphasis on security. All aspects of security are monitored and controlled, including: Network security, 24 Hour surveillance cameras, Photo identification requirements for all employees, Remotely monitored intruder and fire alarms, and Advanced Security systems. Access to each building is controlled by ID Card Swipe access programmable to specific facilities and times. Visitors are only allowed entrance for official company business and must wear visitor badges, as well as, be accompanied by a DATAMARK authorized employee at all times.
If you would like to stay up-to-date on the latest industry news, issues and trends affecting BPO, you are invited to join DATAMARK's free monthly newsletter Outsourcing Insights.
About DATAMARK, Inc:
DATAMARK, Inc. is a U.S. based BPO service firm that provides end-to-end, back-office processing solutions for city, state, and federal agencies, as well as, Fortune 100 companies in the Freight & Transportation, Healthcare, Finance & Accounting and the Government Sectors.
DATAMARK's core services include: Document Processing, Document Management, and Consulting as well as, complementary services focused around Mailroom, Scanning and Document Processing.
With a flexible workforce of over 2,000 employees worldwide, DATAMARK offers multiple cost options and versatile services tailored to each client's unique requirements.
To learn more about DATAMARK's solutions visit: http://www.datamark.net.
###