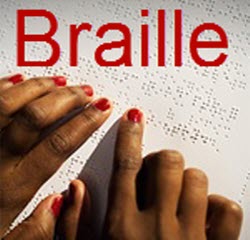 DocPath is firmly committed to the wide community of the blind and visually impaired, and for that reason, we are looking forward to working closely with Index Braille
Tres Cantos (Madrid) , Spain (PRWEB) September 27, 2011
DocPath, is a company specializing in the development of document software. Index Braille (Sweden) is a global manufacturer of Braille printers, better known as embossers. These two companies have started a close collaboration to boost the communication possibilities through documents for the blind and the visually impaired.
Following a joint agreement, DocPath and Index Braille are collaborating closely in providing the necessary soft- and hardware to allow printing braille documents including dynamic text and embedded graphics with Index Braille embossers.
For the first time, it will be possible to bring this advanced graphical printing environment in braille characters, a fact that will greatly improve the communication possibilities for people with visual impairments.
Integration of Index Braille's specialized braille embossers with DocPath's advanced document software will allow printing documents that contain information written in braille, together with variable, customizable data and fixed or dynamic graphics. As a result of this integration, for the first time ever, people with visual impairments will have access to professional customized documents with graphic information that, until now, has not been available anywhere .
With more than 25 years of experience in the world of braille printing, Index Braille has designed a complete embossers product portfolio that cover needs of any type of requirements, from personal to high performance braille printing. These embossers are characterized by sharing the same cutting edge technology for producing high performance, high quality results and multiple printing options, such as printing double-sided paper and inter-point using fan-folded or precut paper. These equipment features are now being combined with software that is currently being developed by DocPath. With more than 20 years of experience in document solutions, DocPath will enable the full potential of document printing with fixed or dynamic graphics combined with the braille language. This way, both companies are moving a further step closer in their common mission for improving the possibilities of communication through any kind of user documents, overcoming the barriers faced by the blind and visually impaired community.
A common compromise
Braille printing with Index Braille embossers for professional documents and graphics information is just one of many features which will be available in the coming months with DocPath's cutting edge Ipanema technology. Ipanema features a complete new and intuitive design environment, together with a multilingual document generation platform that is. The software will be integrated with the latest embosser product family from Index Braille to enable on-demand printing of documents and graphics in braille.
"DocPath is firmly committed to the wide community of the blind and visually impaired, and for that reason, we are looking forward to working closely with Index Braille to overcome any limitations when it comes to accessing information," said Julio A. Olivares, president and founder of DocPath. "Until now, bringing these users closer to their document needs was impossible. Being able to move the Braille language into the graphical area gives us an immense sense of satisfaction and, without doubt, a reason for dedicating our resources on enabling our document software to bring such valuable information to help improving visually impaired people's lives," the company director added.
The collaboration between DocPath and Index Braille, is an important step for the visually impaired to access business records, and is already beginning to bear fruit. In the coming months, integrated solution will be made available to the market that unite the Index Braille embossers with DocPath's document software, providing advanced substantial capabilities to the document management and printing world.
"In recent years, Index Braille embossers have managed to make Braille far more accessible, while contributing to increase literacy and access to information for the blind and visually impaired," explains Björn Löfstedt, CEO and founder of Index Braille. "True to this mission, we know that by working with DocPath, a reference in document software, the possibilities will multiply providing Braille printing capabilities that were not available up to now, to visually impaired people" concludes Löfstedt.
About DocPath
DocPath is a leading manufacturer of document technology software. Founded in 1992, its headquarters are in Madrid, it has two development centers and its solutions are present in companies around the world. Among their international clients are renowned banks and corporations, DocPath facilitates the difficult and complex task of designing, generating and distributing their critical business documents. DocPath maintains a strong commitment to R & D, most of the revenue of the company is invested in this area, making this a key factor of DocPath's success. For more information, please visit: http://www.docpath.com
About Index Braille
With more than 25 years experience, the Swedish company Index Braille is the main global manufacturer of Braille printers, commonly known as embossers. Their products are distributed worldwide covering a third of the braille printer market with the mission being to help users communicate in more than 30 languages. Index Braille devices are characterized by incorporating advanced features such as printing double-sided interpoint braille or feeding fan-fold or pre-cut paper to make access to communication much easier for people with visual disabilities. For more information, visit http://www.indexbraille.com.
DocPath is a registered trademark property of DocPath Corp. Index Braille is a registered trademark of Index Braille AB. All rights reserved. Other trademarks mentioned may be property of trademarks previously mentioned.
###