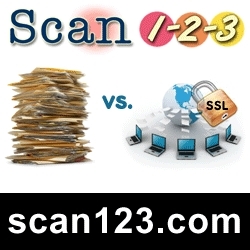 FIADA not only recommends Scan123 to their members, they use it themselves in their own offices
Gresham, Oregon (PRWEB) February 26, 2008
Scan123 document management software has been officially endorsed by the Florida Independent Automobile Dealers Association (FIADA) and has been recommended to FIADA's 1,500-plus members.
Scan123 is a web-based document management software solution which uses off-the-shelf hardware, a non-proprietary file storage format, and a secure, off-site datacenter to provide enterprise level performance at a fraction of the price of its competitors.
FIADA's endorsement came from an increasing need to provide a secure document management system to its members in order to comply with the Financial Modernization Act of 1999, also known as the Gramm-Leach-Bliley Act or GLB Act.
"FIADA not only recommends Scan123 to their members, they use it themselves in their own offices," said Paul DeMoret of OCMUSA, Scan123's parent company.
Failure to comply with the GLB Act can have very serious consequences. The Scan123 document management software helps keep companies in compliance with federal and state laws. It also improves overall work efficiency associated with storage and retrieval of documents. Customer service can be greatly improved because crucial information can be located quickly, even during a phone call.
For additional information on the Scan123 document management system (or for an online demo), contact Paul DeMoret or visit http://www.scan123.com.
About OCMUSA
OCMUSA is a well established provider of e-business solutions for over 12 years and has found a niche market over the past four years offering their Scan123 document management software solution to businesses of all types.
About FIADA
FIADA is the oldest and one of the largest Independent Automobile Dealer Associations in the country and is dedicated to offering its members special privileges and benefits.
Contact:
Paul DeMoret, Operations Manager
OCMUSA.COM
888-481-3727
http://www.ocmusa.com
###