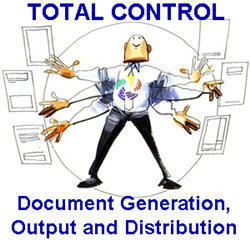 DocPath Total Control has been implemented with great success in many companies in the banking, insurance, logistics and distribution industries for their solution to the challenges of the processes of document generation, output, distribution, archiving and retrieval.
Suwanee, GA (PRWEB) December 10, 2008
DocPath announces the availability of its latest version of the Total Control software solution. For years large and medium size companies have trusted in DocPath modular software solutions for documentation.
"DocPath Total Control has been implemented with great success in many companies in the banking, insurance, logistics and distribution industries for their solution to the challenges of the processes of document generation, output, distribution, archiving and retrieval."
If you want a software solution that gives you a complete system for safe and controlled document generation, output, distribution and archiving & retrieval, DocPath offers it.
DocPath Total Control
DocPath designs modular software solutions to cover all the requirements relative to documentation. With DocPath Total Control companies can generate documents and control the printing process, including scheduled or deferred printing.
DocPath offers you the latest generation software solution that enables you to meet the most demanding requirements and gives you complete control of your documents. The solution meets your needs, whether you have an office environment where you need to generate and print in real time or in a distributed manner any document, including contracts, policies, summaries or receipts; or whether you have a batch environment where you need to produce postal shipments, e-mail communications, etc. definitely facing office environment high-volume production; or whether you have a web environment where you need to dynamically generate personalized PDF documents for viewing and for printing contracts; or whether you work with third parties, whether they're intermediaries or agents, and you need to access their network to provide reports, lists, contracts, policies, etc.
DocPath Total Control is the ideal software solution that will enable you to:

Turn documents over to third parties or intermediary agents without losing control.
Facilitate access to all the documents in a controlled manner, whether it's for the final user or administration personnel or other affected departments especially useful for the logistics and distribution industries.
Obtain great savings in administration and printing costs by considerably reducing document printing.
Allow users, which are previously authenticated by the application, to access a repository from a remote office. They'll be able to retrieve a document and work on it, and the company that originated the document will not lose control of the document.
Preview and e-mail documents, as well as print them online.
Archive the document, once generated, with a printing date and designated printer. The solution includes a sophisticated control system for accessing, archiving, retrieving and printing your documents.
Allow users to mark documents for deletion. The documents will only be marked as deleted. Actual deletion of the documents is performed by a previously scheduled batch process.
Allow different users access to the same document and allow them to work on the document separately without affecting control over the document
Access documents with totally personalized indexes.
Have absolute control over access and work performed on documents.
Put documents in the hands of your clients and business associates immediately and securely.
Eliminate certain centralized printing costs since printing is performed by your clients or business associates, on their equipment.
Generate multi-language documents that support appropriate selection depending on the office emitting the documents or the client receiving the documents. Create high-quality documents with 2D and 3D dynamic graphics, in full color, and the ability to insert personalized publicity messages, among other characteristics.
Design forms with one unique tool, for batch processes as well as for external networks, office networks, the web and other environments.
Ability to operate on all the popular operating platforms: Windows, Unix, Linux, AS/400, z-Series.
DocPath clients, like Agrupació Mutua, an important mutual insurance company, before acquiring the DocPath Total Control Solution, had the objective of optimizing its customer billing process. One of the advantages it obtained with the acquisition of the Total Control Solution was the reduction of paper consumption, as well as the time to deliver information to clients. Sending policies and applications online is the reason information can be delivered to customers immediately, whereas before it would take days. All the while other important objectives, vital to all businesses, are achieved: obtaining customer loyalty, better and faster service, greater satisfaction. More information…
About DocPath
DocPath is a multinational Spanish producer of document technology software. Founded in 1993 in Madrid, the company now includes two development centers based in Spain. Its document solutions, apart from having been implemented in many large Spanish companies, are exported to various American, Asian and European countries.
The company's list of international clients includes banks of prestige and first-line enterprises, which all have seen how DocPath software has simplified the difficult task of designing, generating and distributing their business-critical documents. DocPath reinvests half of its revenue on R&D, a key component of its success.
For more information, visit: http://www.docpath.com.
###