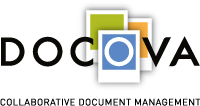 Current Lotus Domino customers who do not have a document management solution should consider DOCOVA as an option."
Burlington, ON (PRWEB) September 30, 2010
DLI.tools Inc. today announced the release of the DOCOVA® Integrated Content Services for IBM® Lotus® Quickr®, enabling Quickr customers to expand their Document Collaboration platform into a complete Document & Content Management solution.
This integration is especially important for Lotus Domino Document Manager (ILDDM) customers seeking a Lotus Domino-based migration option. DOCOVA Integrated Content Services gives Quickr customers full control over the entire lifecycle of their content and documents through its customizable application framework functionalities including archive policy management, robust workflow, records management and paper capture, for example.
The Quickr + DOCOVA solution provides several cost and performance advantages necessary with today's tight IT budgets:

Leverages existing Lotus Quickr, DDM and Lotus Domino investments.
Fast Performance: DOCOVA's renowned application performance improves overall productivity.
Little training required: DOCOVA's core strength of 'Ease of Use' results in end user training sessions lasting under 30 minutes.
Leverage Domino Development skills: Domino Developers can leverage their existing Domino Development skills inside DOCOVA.
Value Priced: DOCOVA is a cost leader in Document Management solutions.
"Quickr is a solution for collaboration and DOCOVA complements Lotus Quickr by naturally extending it into a complete content and document management platform based on Lotus Domino technologies," explains John Ryan, Managing Partner, DLI.tools Inc.
DOCOVA Integrated Content Services establishes the document and content management platform as a leading 'move to' platform for Lotus Domino Document Manager customers seeking a Lotus Domino-based migration option. The Quickr + DOCOVA total document collaboration and management solution provides broader and deeper capabilities than the latest version of Domino Document Manager. Migrating DDM customers can leverage the new DOCOVA Migration Module for a quick, straightforward data and document migration, and may be eligible for no-charge licenses as part of the Quickr + DOCOVA solution.
"We have chosen DOCOVA because we believe it is the most advanced document and content management solution on the Lotus Domino platform. DOCOVA's Integrated Content Services expands the Quickr's collaboration front end to encompass full document management functionality from DOCOVA (e.g. document types, workflow and lifecycle management)," states Roland Driesen, Managing Director, Silverside, "As a DOCOVA Business Partner, we're very excited about the potential 'extra power' Docova Integrated Content Services provides to Lotus Quickr."
Adds Dan Lieber, President IIUI, co-author of the Self Assessment and Strategy Guide for Migrating from Domino Document Manager Redbook: "DOCOVA provides Lotus Domino customers with a rich and deep Domino-based document management platform. Current Lotus Domino customers who do not have a document management solution should consider DOCOVA as an option."
DOCOVA Integrated Content Services is compatible with the newly-released Lotus Quickr 8.5 for Lotus Domino. Learn more about DOCOVA Integrated Content Services for Lotus Quickr here.
About DLI.tools Inc
Market leaders like General Electric, PriceWaterhouseCoopers, HSBC, Bank of America, Nokia, Proctor & Gamble and Boeing count on DLI.tools' web technologies to make daily activities more efficient. The privately-held software firm is well regarded throughout the Lotus community, receiving over 10 Lotus and IBM award recognitions since being founded in 2001.
Learn more about DLI.tools and DOCOVA at http://www.dlitools.com.
###