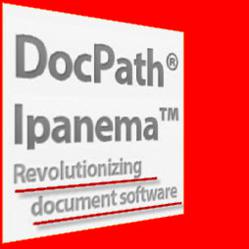 This innovation in DocPath technology leads way to a conceptual evolution in document software technology.
Suwanee, GA (PRWEB) February 16, 2012
DocPath will attend CeBIT 2012, the leading international trade fair for ICT to be held in Hannover (Germany) between the 6th and 10th of March. In this edition, DocPath will present DocPath Ipanema Technology, the new core technology for its solutions, based on a revolutionary new concept that will transform document software.
This innovation in DocPath technology leads way to a conceptual evolution in document software technology. At DocPath's stand we will explain the advantages of this new technology using visual information.
DocPath has decided to present its new technological venture at Cebit 2012, and on an international scale, since the trade fair encompasses the latest technological advances in the field of ICT and is therefore the ideal location for DocPath. Visitors of the ICT industry, and other areas, will be able to familiarize themselves with the advantages of this new technology. Visit DocPath at stand B19/1, located on isle 3.
DocPath Ipanema Technology
The goal of DocPath Ipanema Technology is to offer all document needs to all types of users and companies. At the same time, Ipanema will eliminate the limitations made by all previous and existing solutions, providing a straightforward design environment that is easy to use, multi-platform and multi-lingual.
The main features of DocPath Ipanema Technology are summarized in its ease of use, thanks to simple intuitive interfaces; its flexibility, because it adapts to all the unique needs of each and any company; its ability to optimize processes, because the documents are visually designed in just three steps; and the use of a standard support through the XML language.
About CeBIT
CeBIT, which stands for Center for Information Technology and the Office (Centrum der Büro-und Informationstechnik) is the most important international event in all sectors where professional IT solutions play a significant role. This year's edition will feature more than 1,200 companies from 70 countries and is divided into four platforms: CeBIT pro, CeBIT gov, CeBIT life and CeBIT lab, aimed at different areas of business.
For more information, please visit: http://www.cebit.de/home
About DocPath
DocPath is a leading document technology software manufacturer. Founded in 1992, its headquarters is located in Madrid with two other design and development offices. DocPath solutions are found in companies all over the world. Among its international clients are prestigious banks and first-class corporations, which are aided by DocPath solutions by simplifying the complicated and critical tasks involving design and the distribution of documents. DocPath maintains a strong commitment to R&D&i, an area that receives a good amount of its revenue, and in which lies the key to the company´s success.
For more information, please visit: http://www.docpath.com
DocPath is a registered trademark property of DocPath Corp. All rights reserved. Other trademarks mentioned may be property of their respective titles.
###