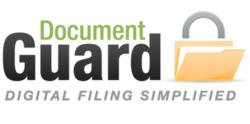 Our pre-configured filing system includes 98% of the cabinets, drawers and folders any business or individual could need. Most users start using Document Guard's digital filing solution on day one.
Duluth, GA (PRWEB) September 26, 2011
Document Guard, a cloud based complete digital filing system, announced today a ground breaking feature called File Assistant that ensures that documents and digital content are always filed consistently to the correct cabinet, drawer and folder.
Document Guard is a simple and easy-to-use digital filing and document management solution to organize and manage business and personal files online. This is the only digital filing solution of its kind that is ready-to-use right out of the cloud. With pre-configured cabinets, drawers and hundreds of pre-labeled folders, users are able to start filing immediately. There is no laborious file structure creation process. "Document Guard's team has done all of the heavy-lifting for you," said Dana Webster, president of Document Guard. "Our pre-configured digital filing system includes 98% of the cabinets, drawers and folders any business or individual could need, most users start using Document Guard's digital filing solution on day one. Extensive research was conducted to create complete pre-configured filing structures for both business and families."
The ability to organize, store, share, and access documents and files immediately from anywhere has become a growing need for both businesses and individuals. The need for a web-based digital filing solution is a must in today's fast paced world. Instant access to files from any internet connection creates instant productivity. Individuals and families are also looking for productive, user-friendly filing and file sharing that frees them from the constraints of their home office. Document Guard's cloud-based solution empowers its users with the capability to take their documents and digital content anywhere.
Document Guard's new revolutionary feature changes the whole filing experience. This innovative new feature, File Assistant, is an interactive search tool that will suggest and guide the user to the exact pre-configured folder in which a file should be stored. The ability to file documents and electronic media instantly without having to determine the cabinet, drawer, or folder will improve the once tedious task of filing and make sure that everyone is consistently filing to the correct folder. Businesses have access to pre-labeled cabinets, drawers and folders for each department including Accounting, Human Resources, Sales, Marketing, and Administrative. The Individual and Family version also has pre-configured cabinets, drawers and folders including a Vitals cabinet for all of life's essential information including Estate Planning, Financial, Health & Medical, Identification & Family, Legal, Insurance and more. Document Guard has eliminated the downtime and task of creating a file structure from scratch by providing an extensive pre-designed structure. Users also have complete control over their structure and can customize as needed.
Document Guard CEO and founder Dana Webster says the company has made the security and privacy of user data its top priority.
"We're responsible for handling our users' important records, which is why we took the time to design a secure system right from the start," he says. "For example, we're using the exact same level of encryption that banks use and we're storing our customers' information in highly secure, redundant world-class data centers spread across the U.S. Our extensive beta testing prior to public release only confirmed for us that Document Guard is a solution that our customers can be extremely confident in."
Founded in 2009 by Webster and a growing team of experts, Document Guard is based near Atlanta in Duluth, Ga. and is backed by Webster's venture capital firm, Bluefields Capital. The company's leadership is highly experienced. Webster has been working in the technology industry since 1980 and the company is managed by numerous industry veterans.
"We have a track record of building technology businesses and establishing successful startups," he says. Not only do we have the tech experience but we're also putting our own capital to work, which puts us on extremely solid footing."
About Document Guard
Document Guard was established as a trusted online service for organizing, storing, sharing and accessing documents and files from home, work or around the world. This digital filing system takes the work and frustration out of organizing. Document Guard is the digital filing solution that anyone can afford. Every aspect of Document Guard has been designed with simplicity in mind, including an easy set-up process. It's a web-based solution, so there's no hardware to buy and no software to install.
###