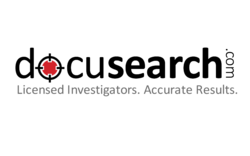 The Verified Address Search offered by Docusearch is a unique "no hit, no fee" search, which offers a highly effective search function for new clients who haven't seen success with other location services.
(PRWEB) April 18, 2013
Whether searching for an ex-tenant or ex-spouse in hopes to reclaim funds that rightfully belong to you, Docusearch Investigations offers a professional approach to locating the missing person. Through a variety of techniques and databases, the private investigative team has demonstrated a proven record of successfully finding these individuals and excellent customer satisfaction.
With a recent rating of 4.97 out of 5, the leading private investigators at Docusearch are confident in their technique and knowledge of gathering precise information to successfully locate an individual that has vanished without a forwarding address.
Different types of person searches offered by the team include locating the individual by their social security number, phone number, name and previous address, or utilities placed in their name. Depending on the information available and what information the client is seeking, either of these searches will be necessary to locate the subject. Two relatively new searches are Identity Verification Search and the SSN Verification Search. Both searches are especially useful as an excellent first step in comprehensive employment screening or investigation.
The verified address search offered by Docusearch is a unique "no hit, no fee" search, which offers a highly effective search function for new clients who haven't seen success with other location services.
Another guaranteed or your money back search offered by the team is their location by telephone phone number search. Unlisted and listed telephone numbers can be traced using the up-to-date databases only available to private investigators and law enforcement officials. The private investigator who receives this request, will perform necessary research through databases by hand to locate the subject of the search. This service will not return results for voicemail, beepers, 900 numbers or toll-free numbers.
When a subject hasn't been seen for about three months or less, a Skip Trace search, or a utility search, is best to track down any known utilities registered to the subject of the investigation. Since credit companies are often behind in updating the credit history of any given individual, the faster method of locating a person who may have skipped out on a lease, bills, or other form of debt may not realize that this highly effective method of locating an individual exists.
If the subject has been missing for three months or longer, a location by social security number may be the next best approach after the skip trace. This search uses the social security information of the subject to include any and all addresses and coinciding dates that have been reported to major credit reporting agencies. As with each of their person searches, if accurate and up-to-date information isn't found through this search the client will be fully refunded.
For more information about the Docusearch's location services or for a quick reference guide to which service may better suit your needs, check out the Locate Search Quick Reference Guide.
About Docusearch:
Docusearch has been profiled by Forbes Magazine and featured in national television media including MSNBC, CNBC, A&E, and Dateline NBC. In addition to their People Search service, Docusearch offers a variety of investigative searches and has been a premier provider for on-line investigative solutions since 1996.