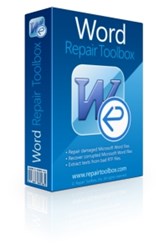 Word Repair Toolbox becomes more efficient software for the restoration of MS Word text files in any version.
Alexandria, VA (PRWEB) January 09, 2013
Victor Bobrov, founder of Repair Toolbox solution, offers the latest version of Word Repair Toolbox for DOCX repair, compatible with all available configurations, developed for PC workstations. The newest release of Word Repair Toolbox recovers more information than before, offering intelligent and heuristic data recovery engine for any version of Microsoft Word text editor. This approach to the safety of text files guarantees the absence of data leakages during the process of DOCX repair therefore the safety of Word Repair Toolbox is guaranteed in all cases and instances of analysis.
Try Word Repair Toolbox if some documents of MS Word format get out of order and there is no way of accessing the data, stored in text files of corresponding format. The safety of DOCX repair software allows recovering more information and preserving the confidentiality of sensible information, stored in Microsoft Word files. The latest release of DOCX repair utility supports any version of Microsoft Word editor moreover it works on any PC hardware. The ease of text restoration process and its interface as well makes it accessible for anyone, from beginners to experts.
Repair Toolbox data recovery tools and services offers a great number of efficient data recovery solutions for any user, regardless his qualification. In all instances of data recovery, this program provides higher safety and efficiency for all popular data formats. The legal address of Repair Toolbox is at: http://www.docxrepairtoolbox.com/