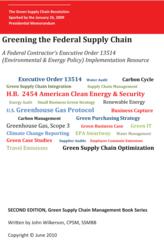 We see significant cost savings that a lean supply chain approach will bring to USTRANSCOM and the entire DoD
Atlanta, GA (PRWEB) October 16, 2007
A rapidly growing Supply Chain and Lean Six Sigma Consultancy Firm, Bellwether Logistics Services, announced today that it has expanded it growing portfolio of Government and Commercial contracts.
Bellwether is one of several niche subcontractors supporting CACI International Inc and the U.S. Transportation Command (USTRANSCOM) in its mission to provide air, land, sea transportation support to the Department of Defense. The multiple-award, indefinite quantity contract has a ceiling of $250 million over the next five years (one year base, four year options).
USTRANSCOM is responsible for creating and implementing global deployment and distribution solutions to support DoD missions worldwide. It provides Transportation, Sustainment, and Distribution to the nation's warfighters supporting their efforts in the global war on terrorism. Bellwether will support CACI with a cadre of Supply Chain, Lean, Six Sigma, and Logistics Managers, as well as integrated supply chain commercial best practices.
"We see significant benefit that a lean supply chain approach can bring to USTRANSCOM and the entire DoD", says John Wilkerson, Executive Director. He continues, "In addition to Kaizen Events, Bellwether will provide an array of services including; change management, strategic planning, exercise support and supply chain analysis."
About Bellwether:
Bellwether Logistics Services, headquartered in Atlanta, Georgia with affiliates throughout Georgia, Alabama, California, Colorado, Indiana, Kansas, Maryland, Missouri, and Virginia, is an international recognized global lean six sigma, supply chain, and quality audit solution provider.
Bellwether is dedicated to providing effective solutions to numerous industries such as; Aerospace, Automotive, Beverage, Chemical, Consumer Products, Department of Defense, Department of Homeland Security, Food, Importers, Information Technology, Medical Devices, Pharmaceutical, Public Healthcare, Retail, Telecommunication, Transportation and Warehousing Companies.
Founded as Consult Quality, LLC, in 2001, Bellwether is Service Disabled Veteran Owned Business, Small Disadvantaged Business, consulting and Minority Business Enterprise. For additional information, please visit our website at http://www.bellwether-services.com/company.html.
Contact:
John Wilkerson
sales(at)bellwether-services(dot)com
http://www.bellwether-services.com/solutions/supply_chain.html
404.386.2437
"Our Mantra- Believe, Execute, Achieve"
###