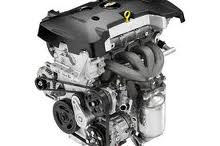 The 18 years since the termination of this vehicle brand has made it more difficult to find replacement I4 motors on the secondary market.
San Francisco, California (PRWEB) December 30, 2012
The UsedEngines.co website is now selling Dodge Daytona engines to car owners online. The recent acquisition of these motors is now making it possible for vehicle owners to find a quality replacement for these classic vehicles at an affordable price. This new inventory addition to the company lineup is expected to provide a trusted resource for those that buy preowned Dodge motors online. More information can be found at http://www.usedengines.co/dodge/dodge-daytona-engines-sale.
Chrysler created its Dodge Daytona in 1984 and this vehicle remained in production for nearly a decade. Although this was known as a hatchback design, this vehicle was marketed to enthusiasts as well as average drivers. The 18 years since the termination of this vehicle brand has made it more difficult to find replacement I4 motors on the secondary market. These engines including the K series are now offered online.
One of the issues with buying a preowned motor is the amount of mileage that might contribute to the wear and tear of the engine. Many vehicles have reached the 100,000-mile mark and finding a low mileage replacement can be challenging. The warranty coverage that is generally absent from a used motor purchase can lower the assurance level of buyers that purchase online. The UsedEngines.co company now offers a parts warranty with the sale of all in stock units.
This new warranty coverage period was first announced in the fall of this year. The inventory that is acquired before sale to the public goes through evaluation measures to ensure that the internal and external components function to industry standards for a used condition motor. These quality control efforts are in combination to the new warranty that is applied to all in stock purchases. The news annoucement for the warranty upgrade can be found at http://www.prweb.com/releases/used-car-engines-sale/chevy-ford-dodge-toyota/prweb9850113.htm.
To make price information easier to obtain, an online quote system is now installed for buyers online. A two-click quote process is now the only requirement to receive in stock price information for all brands of motors. This new addition is helping more people to locate sale pricing after business hours end each day.
About Used Engines Company
The Used Engines Company sells its line of Ford, Chevrolet, Dodge, Jeep, Chrysler, Honda and other imported engines online and offline. This company has built its online inventory to be one of the largest that can be found on the secondary market. By staffing the company with auto experts, the customer service levels and customer shipments have increased over the past five years. The Used Engines Company launched its website online in 2009 and daily updates are now made to the content available. Through low pricing and other incentives, this company has built its reputation as a leader providing used engines for sale.