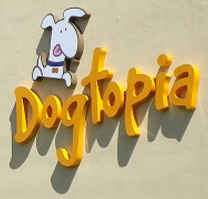 Baths are a great way for dogs to cool off in the summer heat and get clean. Plus its always better if someone else is giving the bath
Pleasanton, CA (Vocus/PRWEB) July 21, 2011
This past Saturday, July 16, Pleasanton's Doggie Daycare, Dogtopia of Tri-Valley showed why it is such as asset to the community and an asset to their clients who may have dogs in need of a bath.
Dogtopia held its first charity dog wash for donations of $10 or more. Each of the donations went to the benefit of Canine Companions for Independence. The day was filled with fun for everyone, including the dogs. There was food, beverages and treats for customers and their pets.
Canine Companions for Independence provides highly-trained assistance dogs for children and adults with disabilities, free of charge. The most advanced technology capable of transforming the lives of people with disabilities has a cold nose and a warm heart.
"Baths are a great way for dogs to cool off in the summer heat and get clean. Plus its always better if someone else is giving the bath," says Debbie Barnett, owner of Dogtopia of the Tri-Valley.
For more information on every day baths, dog daycare and all other services, call (925) 416-7877 or visit them on the web at http://www.dogdaycare-trivalley.com/trivalley. Dogtopia of the Tri-Valley is located at 7132 Johnson Dr. Suite D Pleasanton CA 94588.
About Dogtopia of the Tri-Valley
Dogtopia of the Tri Valley is a Pleasanton pet daycare owned and operated by Debbie Barnett. Debbie has been a resident of Fremont and the Tri-Valley area for the past 15 years. Her passion for animals led her to research dog boarding and pet daycare facilities, and when Dogtopia came along, she knew she'd found her dream. In owning her own business, she most looks forward to creating an environment for the area's community of dog lovers that is engaging, safe and fun.
Debbie resides in the Pleasanton area with her husband, Dale. They are proud caregivers to Rio, a yellow lab mix, and two cats, Angel & Kochi.
# # #