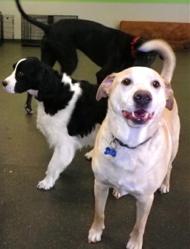 Dogs can't regulate their temperature as well as humans
Pleasanton, CA (Vocus/PRWEB) May 16, 2011
Anyone who loves their dog knows that their faithful four-legged companion deserves to be pampered and taken care of. Dogtopia of Tri-Valley knows this as well. For the month of June, customers can receive $10 off a short summer shave for their dogs.
"Dogs can't regulate their temperature as well as humans," said Nikki Goodman of Dogtopia of the Tri-Valley. "A short haircut will keep them cool, healthy and happy."
June is the perfect time to get a haircut for a dog because the full heat of the summer has not started quite yet. This is why Dogtopia decided to run the special during the month. Professional groomer, Nikki Goodman performs every trim and is also an expert at coloring, scissoring, and stripping. With more than 18 years of professional grooming experience, Nikki is loved by customers and dogs for her great quality of grooming service. Dogs can also experience a fun day in one of Dogtopia's playrooms following their shave.
With this new offer from Dogtopia, every dog can now be well-groomed and squeaky clean this summer.
For more information, call 925-416-7877 or visit them on the web at http://www.dogdaycare-trivalley.com/trivalley/.
About Dogtopia of the Tri-Valley
Debbie, Dogtopia's owner, has been a resident of Fremont and the Tri-Valley area for the past 15 years. Her passion for animals led her to research dog boarding and daycare facilities and when Dogtopia came along, she knew she'd found her dream.
In owning her own business, she looks forward to creating an environment for the area's community of dog lovers that is engaging, safe and fun.
# # #